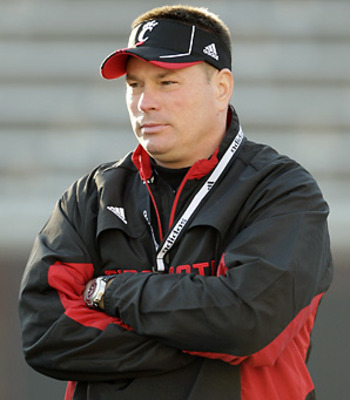 Opening Statements
Sense of urgency this week out of the coaching staff – On defense, they better be.
Recognizes how this team got absolutely spanked on Saturday.
Still having trouble converting 3rd downs on offense and getting off the field on defense after 3rd downs.
Likes that there were no turnovers last week. Hey, so was I!
He's giving Akron way too much props. They suck.
Q&A
Team is still growing, developing, and finding an identity. I'm thinking this last one should have been established in fall training camp.
Fundamentals are still lacking on this team. That's on the coaches.
Pretty sure he called out Drew Frey by saying, '11th guy has to do his job even when the other 10 guys are doing their jobs'.
Definitely called out Drew Frey here – 'A guy was left wide open in man coverage.. by a guy who's always there and was caught looking in the backfield'. At least the coaches actually noticed the error. The next step? Realizing that it keeps occuring over and over and over again with Drew.
Do the coaches really enforce stripping the ball on tackles? That fine but they should enforce the right way to tackle first.
Totally agree that Kenbrell Thompkins is really emerging as a threat next to D.J. Woods
Shaq Washington, Alex Chisum, and Dyjuan Lewis still adjusting to the college level
Malcolm Murray lost for the season with a torn ACL. I sure hope he gets a medical redshirt.
Tony Miliano and Pat O'Donnell will now compete for the kick off spot.
Glaring problems were 3rd and 4th and short. No shit. But he lost me when he said he liked the play calls.
Somehow is still showing respect to Akron.
Finally at the end of the presser, Coach Jones puts it on him and his coaches to teach his players better.
Knows that Isaiah Pead is the man.
Tags: Anthony McClung Bearcats Bearcats Football Butch Jones Coach Butch Jones Coach Jones D.J. Woods Kenbrell Thompkins