Like Bearcats Nation on Facebook. Follow BN on Twitter.
—-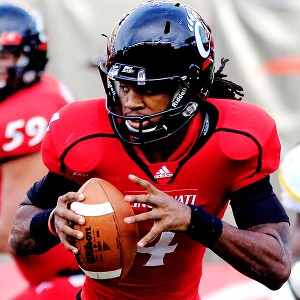 In the weeks leading up to the Liberty Bowl game against the Vanderbilt Commodores, arguably the biggest headline is the possibility of Zach Collaros returning to football field for his final game of his Bearcat career. Coach Jones has even come out and said that his recovery is ahead of schedule and even Zach himself thinks he'll be ready to go. But is it the right thing to do? Even though he CAN start in the Liberty Bowl does it mean he SHOULD? Without watching either quarterback play, the easy answer is that you should play the experienced senior over the very green sophomore. But the solution to this problem isn't as black-and-white as that, and I'm here to explain the factors that should be taken into account before making the decision.
By The Numbers
For all intents and purposes, the following stats are based on an 8 1/2 game 'schedule'. Zach played the first 8 games of the season along with basically the first half of the West Virginia game. Munchie finished off that game as well as the final 3 games of the season. His stats are projections of him playing 8 1/2 games this year':
Collaros: 154/243 (63%) – 1,854 yards - 14 TDs – 8 INTs – 242 yards rushing – 8 TDs on the ground
Legaux: 134/282 (47%) – 1,820 yards – 12 TDs – 10 INTs – 450 yards rushing – 5 TDs on the ground
Statistically, it's a wash when you look at passing yards, touchdowns, and picks. Where you see wins by either player is Zach with completion percentage and rushing touchdowns while Munchie has more rushing yards. While Zach is known for scrambling for the tough yards and making something out of nothing, Munchie appears to play more comfortably on the designed inside/outside zone reads where he has to decide whether or not to run with the ball or hand it off to Isaiah Pead based on how the defense is blitzing. He's picked it up quickly in only a few months and the numbers reflect that. Where Zach has the clear edge is completion percentage, which is imperative in keeping this offense moving. Butch Jones says that every incompletion is like a turnover because it gets the entire offense out of rhythm but having a quarterback that completes 6 out of 10 passes definitely helps keep drives alive.
What Each Brings to the Table
Zach Collaros
Senior Leadership: Has the respect of all 84 players on the football team and commands an audience whenever he speaks.
Playbook Understanding: Two years into the Jones/Bajakian system and knows every single one of the plays like the back of his hand.
Improvisation: While making a handful of stupid plays in scramble-mode, has certainly saved at least twice as many drives while on the run.
Accuracy: Can make every pass and has pretty good touch on the deep ball.
Munchie Legaux
Measurables to Succeed: 6'5″, long legs, and is stronger than he looks – Not lacking in the raw talent department.
Natural Fit: Given his measurables above, he matches the mold of the perfect quarterback to run the Jones/Bajakian offense. More on this in a bit.
Strong in Designed Runs: Look back at the West Virginia tape, as it's clear he understands the inside/outside zone read well which is imperative in this offense.
Further Analysis
Like I just mentioned, Munchie Legaux fits the mold of the perfect quarterback to run Coach Jones/Bajakian's offense. He certainly has his share of weaknesses such as completion percentage and lack of touch when throwing the ball deep, but he has made remarkable progress since the Rutgers debacle. Just look at his touchdown pass to Alex Chisum against UConn. Backside shoulder, away from the defender – You can't ask a quarterback to throw the ball better than that. Also in that same game, Cincinnati fans saw receiver Anthony McClung explode for 142 receiving yards and a pair of touchdowns. McClung got most of those yards on crossing/drag routes where he ran parallel to the line of scrimmage right in front of the face of Legaux.
With Collaros in at quarterback, Jones/Bajakian wouldn't even THINK about drawing up those plays because Zach has a really hard time seeing over his offensive linemen. Legaux on the other hand is a 6'5″ tower that can easily spot the receivers moving across the middle. That's just music to the ears of the coaching staff who can use the playbook as its intended instead of molding plays to fit the strengths of their quarterback, which is what they have to do with Collaros taking the snaps.
But Collaros does bring a lot to the quarterback position that can't be forgotten. Many times this year it just seems like Zach simply wills the Bearcats to victory. Also, no one can deny his toughness as it's only been a month or so since his injury and the fact that he's walking around without crutches is impressive. The idea that he might be ready to play in full pads as soon as next week is even more remarkable.
Final Thoughts
While it's obvious that Zach Collaros has the numbers and the pedigree to warrant a start against the Commodores, Munchie Legaux also has a strong argument himself. The offense has been clicking with Legaux taking the snaps and his development will only be hastened with the Bowl practices. It will also benefit the Bearcats to have him get as many snaps as possible before the 2012 season, when he will be the front runner at quarterback.
What worries me going into the Liberty Bowl is I'm not confident Zach Collaros' ankle is fully healed. Sure he's going to grind through any pain and he'll continuously tell the coaches that he feels fine but is it in the best interest of the team to have a less-than-100% Collaros taking snaps? One of the biggest advantages of having Zach in at quarterback is that he can make plays with his legs but if his ankle is still bothering him, can he still make those plays? How will the offense perform after finally getting used to Legaux under center (so to speak) and then readjusting to Zach running the show?
Those are just some of the questions we as Bearcats fans need to ask ourselves as we approach this game. I would love nothing more than for Zach to take the field with the starters in his final game as a Bearcat and lead Cincinnati to victory. He's a great quarterback and has been Reppin' the C as well as anyone. When the clock hits 3:30 pm on December 31st and the UC offense takes the field, I think Zach will be the one leading them out. Coach Jones cares for the health of his players but he also understands Collaros' importance to this team and wants to honor his senior quarterback in his last game. We may even see Munchie in there for a few drives and I think we'll also see Jordan Luallen sprinkled in there as well.
Is it the right thing to do? Well that remains to be seen.
Topics: Bearcats, Bearcats Football, Butch Jones, Cincinnati, Coach Butch Jones, Coach Jones, Liberty Bowl, Munchie Legaux, Vanderbilt, Zach Collaros