Like Bearcats Nation on Facebook. Follow BN on Twitter.
With Big East football adding five members the Bearcats Nation series to get you acclimated with the new schools and their relationship with Cincinnati continues. Next up: The University of Houston Cougars
The Basics
Houston is pretty much the hottest, muggiest city on the planet. In the Summer, temperatures regularly stay above 90 degrees and during football season they hover anywhere between 60 and 80 degrees. Not only that but it rains there. Like, a lot. As in 54 inches per year. No wonder it's so muggy. I'm surprised Houstonians (Houstonoids?) aren't drenched when they walk outside, whether it's raining or not. Add on to that the hurricanes and tornadoes and I have no idea why there's like 6 million people living in the metro area.
And it's those 6 million people why Houston was such an attractive candidate for Big East expansion. As of August 30th, 2011, Houston owns the 10th largest market in the country with about 2.1 million TV households. It's tough to decipher exactly how much of that the market the University of Houston captures but just the fact that they are the primary school based there put them high on the Big East's list.
Houston Cougars Athletics
Starting with football the 'Cougs', as the locals like to call them, have been playing on the gridiron for a little over half-a-century. They have a 53% winning percentage but have really exploded on the national scene with Kevin Sumlin at the helm. He runs a wide open spread offense that allows his quarterbacks to sling it around essentially as much as they want. Running that offense through just about every game of Sumlin's tenure at UH is Case Keenum who has been a Coug for what seems like 20 years now. He's won a slew of awards and broken countless records with Houston and is looking to get drafted by the NFL next April. If he gets selected he'll join a sizable list of former Cougar quarterbacks to play at the next level including Kevin Kolb and David Klingler. Both were selected very high in the draft but their careers fizzled out as they had trouble adjusting from playing a 'system' offense. Keenum definitely doesn't want to join that list that includes guys like Graham Harrell (Texas Tech).
This sustained success on the football field has convinced the University of Houston athletic department to bring the football program's facilities into the 21st century. The marquee upgrade Houston students will see on campus is a shiny new football stadium to replace the aging Robertson Stadium: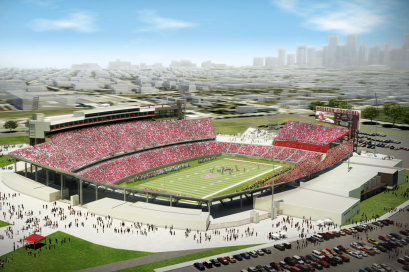 Not to be left out, Hofheinz Pavilion where the Cougars basketball team plays is getting a much needed renovation along with a couple of adjacent practice courts:
The history of Houston basketball is similar to Cincinnati's in that the program's best days occurred over 30 years ago, although the Bearcats have done better more recently. Phi Slama Jama marks the golden age of Cougar basketball as they shocked the world by beginning a new era of fast-paced play that included such innovative concepts as 'dunking'. That team went to back-to-back National Championships in 1983 and 1984 but fell short both times. Still they were dominant over that time led by head coach Guy Lewis who stayed at Houston for 30 years. He retired with a career record of 592 – 279 (.680) and is a legend in Cougar nation.
The Cincinnati-Houston Relationship
The Bearcats and Cougars have played a number of games over the course of both programs' histories. While on two completely different sections of the country, both schools finally met on a regular basis in Conference-USA when Houston moved over from the defunct Southwest Conference in 1996. Unfortunately for the Cougars they were running into a buzzsaw facing the Bob Huggins-led Cincinnati Bearcats of the 1990's who barely lost games and were regularly ranked in the Top-25. This was also a time when Houston was experiencing a dark era on the basketball court. From the year they joined C-USA up until 2005 when Cincinnati left for the Big East, the Cougars only won as many as 18 games in a season two times. The rest of the seasons were ones to forget as the Cougars never won more than 11 games in a season and routinely struggled to post double-digit win totals. Needless to say, UC has dominated the series 8 – Nothing.
The matchup on the football field is a much different story. Houston leads the series 13 – 8. The Bearcats and Cougars met up almost every year between 1957 and 1975. For some odd reason they stopped playing each other for about 2 decades. It could be because Houston was KILLING Cincinnati in the matchups and had won 11 of the 13 games played or it might have been nothing. I'm betting it was the latter. Anyways, when UH and UC got back together in 1993 and again on an annual basis in C-USA, the Bearcats won 6 of the final 8 contests.
There's no better history between Cincinnati and the 5 incoming members than they have with the Houston Cougars. I'm pumped to finally get these games back up and running especially considering the football games would probably end in 50 – 48 shootouts.
Welcome, Houston!
Previous Welcome Posts
[Cincinnati and Boise State: There's a Connection There. Probably]
Tags: Bearcats Bearcats Basketball Bearcats Football Cougars Houston Uh