Like Bearcats Nation on Facebook. Follow BN on Twitter.
One of the greatest phrases in sports is "pitchers and catchers report". It's something baseball fans like myself look forward to throughout the cold, dark winter. That phrase signifies a changing of the seasons and inspires thoughts of freshly cut grass and day-old hot dogs spinning on a grill. It should be especially meaningful for residents of Cincinnati with the hometown Reds taking over Summertime in the Queen City. Being a huge Reds fan I personally love baseball season and can't wait for Opening Day. For the Cincinnati Bearcats, their season is just beginning. This afternoon, UC will take on Purdue in Clearwater, FL. In anticipation of this, I commandeered the assistance of Chuck Saffell, Lead Baseball Analyst for bearcatlair.com, to answer some questions about UC baseball.
Bearcats Nation: Let's start with your evaluation of last season. Did UC meet or exceed your expectations, or did they disappoint?
Chuck Saffell: I would say overall they met expectations. They dropped a few midweek games they probably should have won due to inconsistency with the bullpen, but when it came to Big East play, they finished 4th in the conference which was above what was expected. They had 6 new starters in the lineup, but still increased team batting average and runs per game.
BN: What do you think of Brian Cleary as UC's head baseball coach? He's Cincinnati's winningest coach and has pumped life back into the baseball program but has hovered right around .500 in his past few seasons.
CS: If you would have asked me this question a couple of years ago I would have had a much different answer. After spending a lot of time around the program and talking with Coach Cleary, I really think he has done a good job here. I know he has a losing record overall and the team has hovered around .500, but given the state of the program when he got here, the fact that a stadium was built in the middle of his tenure which forced the team to play off campus for a couple of years and really hurt recruiting at the time, and the budget problems the whole athletic department works under, I don't know if anyone else could have done a better job.
He has really got the ball rolling right now. Season ticket sales are going to be an all time high this year, the Diamond Club (baseball's version of the 1200 club) is growing at a good pace, and the level of talent in the last couple of years has gotten much better. I believe this program is about to turn a corner and Coach Cleary is the main reason for that.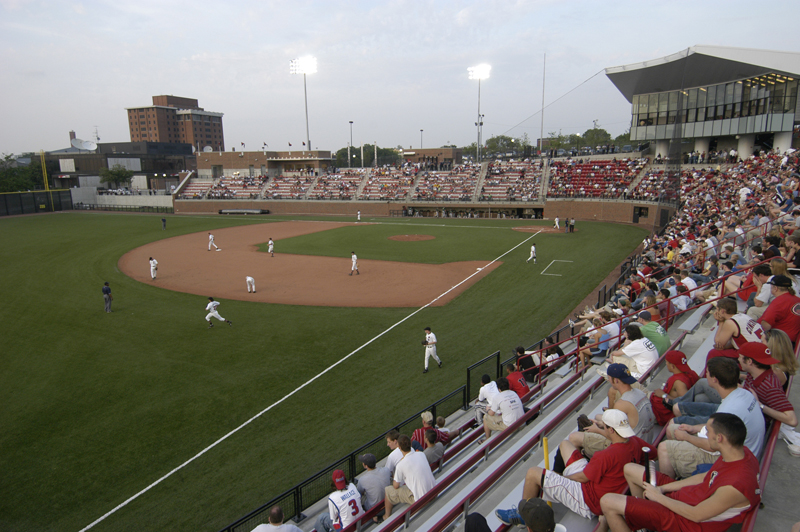 BN: It seems like more people will be attending Marge Schott Stadium this year. What's your take on UC's ballpark? Best place to sit, grab a beer? Is it more of a pitcher's park or a hitter's park?
CS: Marge Schott Stadium is easily one of the top two stadiums in the conference, right there with Louisville's park. There are very few northern teams that have facilities anywhere near what UC has. As far as the best place to sit, there isn't a bad seat in the house. You can either sit in chair backs behind the plate or bleacher seats along the baselines. I really don't think there are many hitter's parks left in college baseball due to the new restrictions they placed on bats last season.
BN: I mainly follow football and basketball recruiting but admittedly don't pay too much attention to baseball prospects. But the commitments of Lakota East strikeout-machine Michael Conrad and his teammate Evan Hillis did catch my eye. What's your evaluation of them, where they will fit in the UC pitching corps, and the entire class in general?
CS: Keeping kids like Conrad and Hills home to play is huge for UC. There is not nearly the same amount of baseball talent in the Cincinnati area as there was 10-15 years ago. Local kids just aren't playing baseball as much. So you want to lock up the few really good players there are. Conrad is a senior this season, and I look forward to seeing what he brings in next year. Hills I think will likely redshirt this year. This year's class was full of talented players and there are quite a few freshman from out of state that could see playing time this season.
BN: Now let's get to the 2012 season. The losses of Justin Riddle and Braden Kline will be tough on this team. How does Coach Cleary go about pulling a Billy Beane and replacing their production?
CS: I am going to assume you mean Justin Riddell and Chris Peters because Braden Kline is still on the team. The production of those two guys is tough to replace, but I think the offense this year will be fine. Justin Glass will move from the DH role he played as a freshman and take over for Riddell in right field in a few weeks. He is still trying to get strength back in his arm after offseason shoulder surgery. In the meantime T.J. Jones will handle the duties in right and will move to DH once Glass is healthy enough to play in the field. Jones saw limited action as a junior due to some issues with his legs, but should be fine as a DH everyday. He drove in 31 RBI as a sophomore and 32 as a freshman. If he can equal that type of production this season the loss of Riddell won't sting quite as much as I expect Glass to increase his RBI numbers this season.
Peters is also tough to replace. The plan is to slide Matt Williams over from 3rd to SS. Williams had a pretty good freshman year and SS is his more natural position. He is a great athlete and when it comes to play in the field, I think he could be better than Peters was. As far as replacing Peters' production at the plate, I expect better numbers from guys like Nic Spence, Sam Vandenhuevel, and Jake Saylor, all JUCO players who took some time to adjust to the Division I game last season. If those guys make the jump statistically that most JUCO players do their 2nd year in the program, this team should be fine offensively.
BN: Who are some no-names on the roster that are bound to get some attention this season? Who are your breakout players?
CS: A couple of no name guys who are going to make an immediate impact are two freshman getting thrown into starting roles. The first is Joey Bielek from Scottsdale, AZ. He is going to be the Bearcats' starting 3rd basemen this season. He was First Team All State his senior year and was named his conference's player of the year. The coaching staff is really high on his potential and have been impressed with his play from the minute he stepped foot on campus.
The other guy to watch for is left handed pitcher Zach Morris from DeMatha High School in Maryland. He is starting the season as part of the weekend rotation. He had only one loss between his junior and senior years of high school and had an ERA of 1.91 over those two seasons.
One player I think could have a breakout year is pitcher Brad Mergen. He came in with high expectations out of Indian Hill CC in Iowa last season, but never really performed like the staff thought he would. He finished with an ERA 6.67 and only made it past the 4th inning once in six starts. Going back to fall practices, he has looked like a much different pitcher. There is a chance he could be a consistent midweek starter.
BN: Pitching wins championships but UC's era was north of 4.5 last season. The thing that really worries me is the strikeout/walk ratio (1.7 in 2011). What do you think attributed to that and how can UC make the necessary adjustments to cut down on their walks and have a better overall pitching corps in 2012?
CS: The pitching problems were mostly due to the bullpen. The team got solid performances from the starters most of the year, but you could never feel safe about a lead once the relievers were called on.
BN: What is the rotation and bullpen going to look like next year? Does Cleary use a closer like traditional MLB teams?
CS: The starting rotation for the weekends will be Andrew Strenge, Matt Ring, and Zach Morris. Midweek starts will mostly come from Thomas Gentile, Sam Vandenhuevel, and Brad Mergen. Out of the bullpen I think you will see a lot of senior Corey Hough and RS sophomore Jason Pascuzzi. A freshman trio of Connor Walsh, Bryan Chenoweth, and Art Warren are also guys that could see quite a bit of time out of the pen.
Not having a closer last season was something that really hurt the 2011 team. This season junior Zach Isler will be handling the role of closer. He is a big, hard throwing righty that is perfect for the job.
BN: I remember watching UC in the Big East tournament last year and couldn't help but wonder why they couldn't advance. What does this team need to do to make a deep run in May?
CS: To make a run, this team needs consistent pitching, especially from the bullpen. Offensively they are going to be very good.
BN: Now I'm going to put you on the spot. What's your prediction for this season? Final record, post season expectations, individual awards, etc.
CS: My prediction for the number of wins is 35+. I think they could get to the magic number of 40 which usually puts a team in good position for an at large berth to the NCAA tournament, but I just can't say that I think they are definitely going to get there with a few questions to be answered when it comes to the pitching staff. I think they will finish in the top 3 of the Big East heading into the conference tournament.
—
There you have it. Cincinnati's baseball team could be a juggernaut in the Big East this season. While pitching seems to be coming along, the offense should have no shortage of firepower. Thanks again to Chuck for answering my long-winded questions. Be sure to follow him on Twitter to get the latest news on UC baseball or just to say 'hi'. I'm sure he'd much appreciate it.
Tags: Bearcats Bearcats Baseball