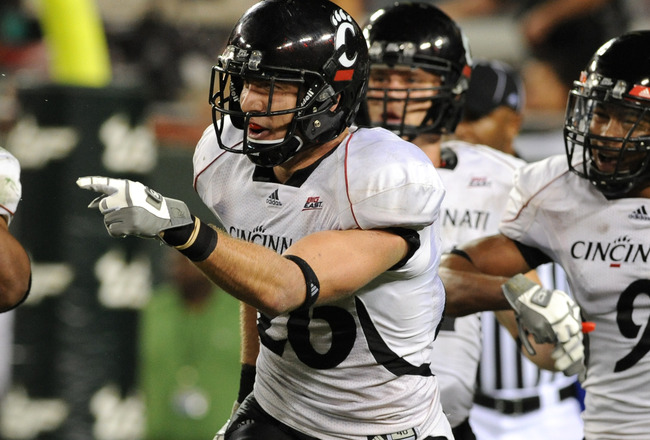 [ ST - CB - S/NB - LB - DL - OL - TE - WR - RB - QB ]
Much like the cornerbacks next season, the safeties/nickelbacks will be very experienced in 2012. UC essentially returns everyone from the 2011 team with one exception; Wesley Richardson. The senior has since graduated. While not the fastest or most athletic player, Richardson made up for that with his high football IQ. He was an extremely valuable cog in the UC secondary and will be missed. But other than him there's a lot to be encourage about with this unit. Drey Frey is entering his fourth season as strong safety, Chris Williams is a senior with a ton of games under his belt, his backup Reuben Johnson is also very experienced, and Pat Lambert has been a special teams extraordinaire.
In their careers at Cincinnati, all seven players listed below have played a combined 140 games. Quite a bit can be said for an embattled unit of veterans who know how to win. Just ask Butch Jones who won a Big East championship last season with a slew of experienced players who went through the rigors of a frustrating 4 – 8 2010 campaign. So clearly the safeties and nickelbacks will round out a very strong secondary. Let's break it down.
STRONG SAFETY
Starter: Drew Frey
However much I doubted him, Frey truly came into his own near the end of the 2011 season earning himself 1st Team All-Big East honors. He has always been a solid contributor against the run and at 6'3″ 200+ lbs can flat out pop running backs. But this has gotten him into trouble against the pass. Offensive coordinators regularly call play-action passes towards his side of the field because they know there's a good chance he is going to bite on it. This has been Drew Frey's main problem for two-and-a-half years in a Bearcat uniform. But nearing the end of the 2011 season a lightbulb seemed to turn on in his head and Frey's coverage skills improved remarkably. He really closed out the season strong and hopefully carries that momentum over to 2012. But if he regresses I will hate him forever. Just kidding! Maybe.
Backup: Arryn Chenault
The junior backed up Frey in 2011 and got some experience last season in Cincinnati's blowout games (Austin Peay, Akron, NC State to an extent). He also spelled Frey when he succumbed to his share of injuries in 2010 and 2011. Chenault will likely get even more reps in 2012 that features games against two FCS schools. He will also probably continue to see the field on special teams and all of this added experience, along with backing up a veteran like Frey, will serve him well when he is the starter at strong safety in 2013.
FREE SAFETY
Starter: Patrick Lambert
He has backed up Wesley Richardson for the last two seasons and mostly earned his keep on special teams. Lambert even filled in for Richardson when the he was out with an injury in the beginning of the 2010 season. So, among the free safety candidates on the team, he has the most in-game experience and will be leaned upon to take most of the snaps as a senior. I really like what he brings from a measurables standpoint (6'1″ 200 lbs) and like Drew Frey does very well against the run. His reps on the special teams have certainly honed his skills in this area.
Backup: Malcolm Murray/Adrian Witty
I was slightly disappointed last season hearing that JUCO Malcolm Murray was having trouble adjusting to playing in Cincinnati's secondary. It's not uncommon for JUCO transfers to struggle on their new teams but he had a lot of hype coming into fall camp last August. I was admittedly drinking the kool aid and he never jumped or even pushed Wesley Richardson as I had thought. On the other hand, Adrian Witty has been one of the most praised Bearcats since signing with UC for the 2010 class. He's one of the fastest players on the team and the coaching staff has decided to move him to safety because of his unique combination of coverage skills and big hitting abilities. This position battle will be an intriguing mix of battle-hardened vet versus rising youngster. Who is going to come out on top in the spring?
NICKELBACK
Starter: Chris Williams
Williams came to Cincinnati as one of the highest rated players of the 2009 class. Despite playing defensive back at Winton Woods High School, he never got his feet under him at either safety or cornerback at UC. But Williams has since found a home in the nickelback position with the Bearcats. He has been invaluable here with more and more offenses adopting the spread and defenses adjusting from 3-linebacker/4-defensive back formations to 2-linebacker/4-defensive back/1-nickelback schemes. Williams has thrived in this position playing pretty well against the pass and exceptional against the run. Where he has really found his niche is blitzing the quarterback. The senior was the only DB on the roster to notch a sack in 2011 and Williams tallied two of them.
Backup: Reuben Johnson
Like Chris Williams, Johnson bounced around a bit during his time at Cincinnati. He spent most of the 2010 season as the cornerback backing up Camerron Cheatham but the coaching staff elected to try him out as a nickelback. Also like Williams he's really excelled in his new role and especially in run support. Really both nickelbacks are interchangeable and provide great additions when stopping teams who like to spread the field with multiple receivers. So Johnson is technically a 'backup' but should see quite a bit of playing time when Williams needs a breather.
DARK HORSES AT S/NB
As I've mentioned the safeties and nickelbacks are very experienced and deep. All of the starters are seniors and the backups are composed of two seniors and a junior. There is plenty of experience in this group to not need reps from the younger DBs on this team. This will allow the freshman and sophomores to learn from these vets in practice. I'm in favor of redshirting freshmen if possible to allow them to learn the system at a slower pace but the following players might see playing time at safety or nickelback in 2012.
Marcus Foster: True freshman; Troy, Ohio – Highly rated defensive back with long arms and excellent ball skills.
Demitri Beal: Redshirt sophomore; Pembroke Park, Florida.
Topics: Adrian Witty, Arryn Chenault, Bearcats, Bearcats Football, Chris Williams, Cincinnati, Coach Butch Jones, Coach Jones, Drew Frey, Malcolm Murray, Nation, Nickelbacks, Pat Lambert, Reuben Johnson, Safeties