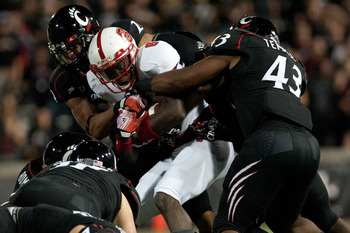 [ ST - CB - S/NB - LB - DL - OL - TE - WR - RB - QB ]
The linebacker position has been a black hole of sorts for a couple of years now. Of all the areas on the team to have depth issues, this position has been at the top of the list. The problems really began after the 2009 season when projected starters like Angel Clybourne, Tristin Marvin, and Robert Martin never made it to campus. Throughout this time, Cincinnati leaned upon J.K. Schaffer and Maalik Bomar to shoulder most of the load at this position because there simply were enough bodies behind them to give them a breather.
Not anymore.
Butch Jones has made it a priority to bolster this unit by signing Nick Temple, Greg Blair, Dwight Jackson, and Clemente Casseus in the class of 2011. He followed that up this past season by signing an additional five linebackers, one of which (Errol Clarke) is already on campus participating in spring drills. It's safe to say the depth issues at linebacker are now a thing of the past and while the unit has lost J.K. Schaffer to graduation, still has quite a bit returning.
STRONGSIDE LINEBACKER (SAM)
Starter: Nick Temple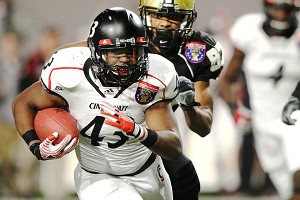 As a true freshman, the safety-turned-linebacker from the high school powerhouse Warren Central football program was an instant hit with the coaching staff. Temple enrolled early and that clearly paid dividends last season as the coaches gave him his first start just a few games into the season. Part of that was transfer Ben Pooler's injury but Temple had always been near the top of the depth chart at linebacker. As the season progressed the true freshman only seemed to get better filling in nicely at the SAM or backing up Maalik Bomar when the Bearcats went to a Nickel defense. Temple will fulfill the same role in 2012 except that he will probably be a full-time starter in the Nickel packages.
Backup: Greg Blair
The commitment from Blair was a welcomed surprise for the 2011 class. Not only did the JUCO look great on tape but it was believed that he could play immediately next to J.K. Schaffer and Maalik Bomar last season. But that never really panned out last year as Blair didn't see any playing time in 2011. He should be ready to go in 2012.
MIDDLE LINEBACKER (MIKE)
Starter: Solomon Tentman
I have been the single biggest fan of Solomon Tentman since he signed with Cincinnati for the class of 2010. The main reason is this picture which makes him look like a freakin' badass. The other reason is that he's a 6'2″ 220 lbs mammoth of a linebacker. I was heartbroken when he tore his ACL as a true freshman. It really hindered his development. He was forced to redshirt that season which allowed J.K. Schaffer to move inside and take over the MIKE position. Obviously that move worked out extremely well for both Schaffer and the Bearcats but Tentman simply wasn't able to see the field. He was also still recovering from that knee injury last season but just wasn't going to overtake J.K. Now as a sophomore, I think this will be Tentman's opportunity to really shine as he is finally 100% healthy. Can't wait!
Backup: Dwight Jackson
A converted defensive end from Miami, Florida, Jackson also enrolled early with fellow freshman Nick Temple. Typically it's easier to transition from safety-to-linebacker vs. defensive end-to-linebacker because pass defense is more difficult to learn than run defense. But Jackson made that adjustment seamlessly in 2011 which earned him quite a bit of playing time backing up Maalik Bomar at the WILL. I think he gets some snaps at middle linebacker this season.
WEAKSIDE LINEBACKER (WILL)
Starter: Maalik Bomar
For whatever reason Bomar has been an injury magnet for the past two seasons. But he hasn't missed a game in those two years and those stingers didn't stop him from throwing his body around like everybody else on UC's defense. Now a senior, Bomar is the most experienced player in this unit. Coach Jones will look to him to fill J.K. Schaffer's role as the vocal leader of the linebackers and the defense in general. I doubt this will be an issue for Bomar who knows the Bearcat way better than 95% of the players on this team. As long as he can stay healthy, the senior should have a solid final year.
Backup: Clemente Casseus
The linebacker from Florida was a big surprise in 2011 both for his commitment on National Signing Day and for how well he played last season. He only played in two games as a true freshman with players like Schaffer, Bomar, Temple, Tentman, and Pooler ahead of him on the two-deep. But for a guy who was a relative unknown before NSD in 2011 he performed admirably with his limited reps. Casseus could very well be the next Wesley Richardson who went from walk-on to starter in his time with the Bearcats.
DARK HORSES AT LB
The starters for strongside and weakside linebacker are pretty much locked. There could be some shuffling among the six players I mentioned above (i.e. Flip-flopping Jackson and Tentman or moving Temple to the MIKE) but by and large there probably won't be much change caused by players on the outside. The main reason is that a good portion of the linebackers on the roster next season will be true freshman. Jones shouldn't need to throw them to the wolves like he did with Temple and Jackson in 2011. However, we could see the following players see their names on the two-deep some time this season.
Corey Mason: Redshirt sophomore; Cincinnati, Ohio.
Errol Clarke: True freshman; Miami, Florida – Early enrollee.
Topics: Bearcats, Bearcats Football, Cincinnati, Clemente Casseus, Coach Butch Jones, Greg Blair, Jk Schaffer, Linebacker, Maalik Bomar, Nation, Nick Temple, Solomon Tentman