[ ST - CB - S/NB - LB - DL - OL - TE - WR - RB - QB ]
If you frequented Bearcats Nation last season you know I was a big fan of Cincinnati's defensive line. So much so that I bet ESPN's Andrea Adelson that they would be a top-half of the Big East unit. Their performance gave me a landslide victory as the 8-man rotation along the defensive front wreaked havoc on opposing offenses. Statistically, the Bearcats DL led the Big East in tackles, tackles for loss, sacks, and forced fumbles. They were second in the conference in quarterback hurries. That's domination.
Obviously starting two future NFL draft picks inside helps but it was the added depth that really made this position group a menace last season. While the Bearcats lose Wolfe, Hughes, and 3rd-down specialist Monte Taylor, they return everyone else and will be adding a few new players to the group. The DL will probably take a step back in 2012 but that is only relative consider how dominant the unit was in 2011. Overall, the defensive line should be pretty good next season.
STRONGSIDE DEFENSIVE END
Starter: Walter Stewart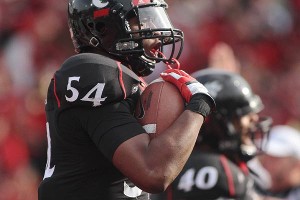 Next season could be an explosive year for the senior. Walt has always been just oozing with talent and has been a coaches favorite since he came to Cincinnati a few years ago. His return to the defensive line on a permanent basis was thought to spark him to a monster season in 2011. And Walter really did have a pretty good year tallying 6 sacks and 11 tackles for loss but he never really got going until the Louisville game. It will be especially important to play the full 12/13 games next season like he did in the 2nd half of last season since Wolfe and Hughes are now gone. Offensive coordinators will probably throw more double teams at Stewart than ever before and he will be challenged to step up.
Backup: Brandon Mills
Cincinnati's sparkplug can literally play any position along the defensive line. Not on a full-time bases, though, as we learned in 2010 when offensive coordinators would consistently dial up runs towards his side of the field. But Mills has shined as a backup for the reason that he surprises offensive linemen with his strength and quickness despite being about 5'10″ and 250 lbs. He had the third most sacks in 2011 of any Bearcat a year after he lead the team in sacks. Overall you can probably count on Mills to notch about 5 or 6 sacks per season. Pretty good for a backup. And even though I list him as backing up Walter Stewart, don't be surprised if he lines up on the opposite side of the defensive line or on the interior because, as I mentioned, he can play anywhere.
DEFENSIVE TACKLE
Starter: Jordan Stepp (NG)
The redshirt junior boasts the most experience of the returning defensive tackles. He was backup #1 when either Derek Wolfe or John Hughes needed a breather last season and notched 33 tackles on the year. Stepp is on the shorter side for a defensive tackle (6'0″/6'1″) but that low center of gravity allows him to push around offensive guards and centers well. He also weighs in at close to 290 lbs which helps him even more in the trenches. Stepp should be the nose guard this season.
Starter: Camaron Beard (DT)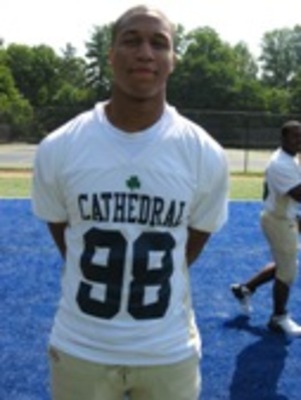 Coaches and spectators have raved about Beard's size and athleticism. A converted defensive end, he was redshirted his freshman year to allow him to bulk up. And boy did he. As a senior in high school he measured in at about 240 lbs. In one and a half seasons in Dave Lawson's strength and conditioning program, Beard bulked up to nearly 280 lbs. Physically he seems to be ready to handle the load of starting at defensive tackle but expect him to have added an extra 10-15 lbs by the end of the Summer (or the Spring Game, even!). He got his feet wet in UC's blowouts in 2011 and learning from Wolfe and Hughes only helped his development.
Backup: Brandon Mitchell
This kid is just a mammoth of a human being currently measuring in at 6'2″ 320 lbs. God help any offensive lineman tasked with blocking him. Mitchell hails from Withrow High School and played both offensive guard and defensive tackle before focusing on the latter his senior year. But the young man also wrestled while in high school. The innate skills Mitchell learned in this sport (leverage, body control) are immediately transferable to the defensive tackle position. This combined with his massive size only makes him that much more of a force along the defensive front. He should be the first player off the bench to spell Stepp or Beard in 2012.
WEAKSIDE DEFENSIVE END
Starter: Dan Giordano
The senior has been rock steady as Cincinnati's weakside defensive end for three years now. Giordano is good for about 5-6 sacks and 9-or-so tackles for loss per season and we can probably expect those same numbers this fall. He has slowly packed on about 20 lbs during his time with the Bearcats which will only help him power past offensive tackles in 2012. Giordano could have a breakout year but history shows that he'll probably hang around middle of the pack production-wise.
Backup: Brad Harrah
He could get jumped by some of the younger defensive ends on the roster but right now Harrah is the most experienced of the remaining edge rushers. As a redshirt freshman, he participated in all five non-conference games in 2011 notching a couple of tackles against Austin Peay. He's up to 250 lbs and could pack on more this Spring.
DARK HORSES AT DL
The starters are pretty much locked and the backups of Brandon Mills and Brandon Mitchell aren't going anywhere, either. Coach Jones and Steve Stripling will cycle between the three-man rotation of Stepp, Beard, and Mitchell but one of the defensive tackles below could get playing time here. On the edge, the backup at weakside DE is up for grabs with Monte Taylor and Rob Trigg graduating. Really, any of the remaining ends on the roster have a shot at backing up Giordano this season.
Roney Lozano – Redshirt sophomore; Miami, Florida.
Alex Pace – True freshman; Cleveland, Ohio.
Silverberry Mouhon – Redshirt freshman; Norcross, Georgia. – Captain of UC's All-Name team.
Chad Hannah – Redshirt freshman; Tampa, Florida. – Molded like a young Walter Stewart.
Chad West – Redshirt freshman; Perry, Ohio.
Topics: Bearcats, Bearcats Football, Cincinnati, Coach Butch Jones, Coach Jones, Defensive Line, Dl, Nation