[ ST - CB - S/NB - LB - DL - OL - TE - WR - RB - QB ]
One of the biggest (if not the biggest) questions heading into next season is how Cincinnati will replace Isaiah Pead. In short, that's simply not going to happen with any single runningback on the roster. Pead was just so unbelievable when he had the ball in his hands, at times hoisting this team on his broad shoulders to victories. There could very well be another Isaiah Pead waiting in the wings on the roster but that's extremely unlikely.
That's not to say there isn't quite a bit of talent at runningback for Butch Jones and Mike Bajakian to play with. George Winn has a ton of experience serving as the halfback who regularly lined up next to Pead last season and we saw first hand his potential in the Liberty Bowl. There is also JUCO transfer Aaron Harris will finally play for Cincinnati this fall and looks absolutely terrific on tape. Finally, UC has a slew of young runningbacks who benefited from reps early in the season and learning first hand from Isaiah Pead. Clearly there is untapped potential here and overall although Pead is moving on to the NFL the runningback position he is leaving behind is in good hands.
Starter: George Winn
Like I mentioned Winn has been lining up next to Isaiah Pead for quite some time now. The redshirt senior served as a blocking halfback out of the shotgun and on 3rd down situations. But he will fill in as the regular runningback in 2012 lining up next to quarterback Munchie Legaux. Winn doesn't have the quick feet and front end speed of Isaiah Pead (few players do) but the senior is tough to bring down and understands this offense well. He also has pretty good speed and cutback abilities despite his size. Overall I have full confidence in Winn to be a very productive back next season.
The following players could easily share playing time behind Winn so they are both slotted in the same position.
Backup: Jameel Poteat
Coach Jones has had nothing but good things to say about his sophomore this season. Poteat joined the Bearcats as yet another highly rated recruit in the Butch Jones era. He hails from the very successful Bishop McDevitt High School program in Pittsburgh that produced LeShawn McCoy. Poteat certainly was the most physically ready runningback signee in the 2011 class and that certainly helped him climb the depth chart. As a true freshman he was never lower than third on the two-deep with Ralph David Abernathy IV. Expect him to get some valuable reps this fall.
Backup: Ralph David Abernathy IV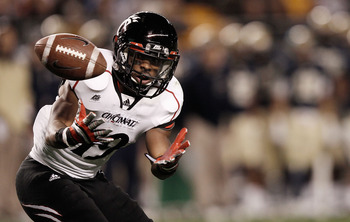 The kickoff specialist is one of the fastest players on the team, as showcased by this play. Poteat and RAD4, as Isaiah Pead called him, bring different abilities to this unit. The former is more of a downhill, bruiser who has solid speed once he gets to the second level. Abernathy, however, is more of a scat back who can hide behind the offensive line and slip into the open field very well. He is also an intriguing weapon on slip screens and tunnel screens because of his quick feet and ability to break ankles. With a year of experience under his belt Abernathy should be in for a good year in a situational role.
DARK HORSES AT RB
Like wide receivers, runningbacks can certainly step in as true freshman and contribute right away. The trio of Poteat, Abernathy, and Teague (who is no longer with the team) simply never got a chance in 2011 because Pead was locked in as the starter. But in 2012 the position is much more wide open. Therefore, I could see the following true freshman get some reps mainly because he was an early enrollee and he seems to be a gym rat, continuously striving to improve his game.
Deionte Buckley – True freshman; Indianapolis, Indiana.
I should finally mention that I didn't list JUCO transfer Aaron Harris because he won't be on campus until Summer and will miss Spring practice. However, I think he will be in the mix at runningback this Fall.
Tags: Bearcats Bearcats Football Coach Butch Jones Coach Jones Deionte Buckley George Winn Isaiah Pead Jameel Poteat Ralph David Abernathy Runningbacks