[ ST - CB - S/NB - LB - DL - OL - TE - WR - RB - QB ]
It seems like eons since there was uncertainty at the quarterback position for the Cincinnati Bearcats. The combination of Tony Pike and Zach Collaros had fulfilled this role for the better part of the last four seasons. Both seemed to fit well in Brian Kelly's offense but Collaros has struggled since Butch Jones was hired from Central Michigan. I've said this time and time again, Jones and offensive coordinator Mike Bajakian require a quarterback to stand tall in the pocket and evaluate the defense from there. But Collaros is a generous 6'0″ who literally couldn't see over the 6'3″ – 6'6″ offensive lineman in front of him.
As a result, we saw the coaches adapt to Collaros by rolling him out of the pocket and designing wide receiver routes outside of the hashmarks. But that wasn't how the offense should be ran. It was your classic square peg, round hole situation. When Collaros was lost for the remainder of the regular season during the West Virginia game, Munchie Legaux was brought in to relieve him. In all honesty, as rusty as the sophomore looked, the coaches seemed to be able to call many more plays with him taking the snaps than with Collaros: Slants, tunnel screens, drags, crosses; essentially all of the routes Dan LeFevour hit while he was quarterbacking the Chips. It's unrealistic to think Legaux can immediately be to the Bearcats what LeFevour was to CMU but the Cincinnati offense should have much better flow this season with him taking the snaps.
Starter: Munchie Legaux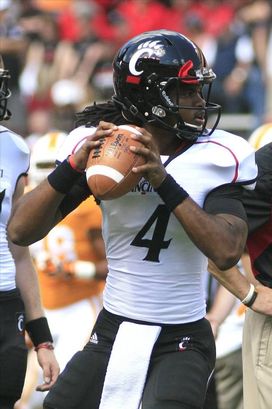 While Coach Jones will continue to beat around the bush, everybody who's anybody knows that Munchie will be the starter in the Spring Game and this Fall. The junior had trouble last season with his throwing motion. Although he is 6'4″, his release point was low and his passes would routinely get batted down at the line. But as the season progressed Legaux's mechanics improved markedly. His best game, not surprisingly, was against UConn at the end of of the regular season in which he threw for over 200 yards and 3 touchdowns. It was not only his numbers but this throw that makes me so encouraged about him as UC's starting quarterback next season. Backside shoulder, where only his receiver would catch it, touchdown. You can't ask a quarterback to throw the ball better than that. On top of that Munchie is a natural fit for this offense despite how raw he was in 2011. I can't wait to see what he can do in a full season as Cincinnati's starting quarterback.
Backup: Brendan Kay
For the first time in three seasons, Brendan Kay is experiencing an offseason where he is fully healthy (knock on wood). If they gave out trophies for 'Offseason MVP', Kay would win it each and every year. People who have watching him during Spring and Fall practices have raved about his arm strength and the tightness of spiral he puts on the ball. At 6'4″ 230 lbs he certainly has the frame to succeed in this offense. Expect Kay to take plenty of reps as QB-2 this year and hopefully he can avoid injury.
In the Mix: Patrick Coyne
The redshirt freshman joined Cincinnati as a member of the class of 2011. He was a quarterback in high school known for having a strong work ethic and oozing with confidence. On the field he's a gunslinger similar to Zach Collaros but with better arm strength and height. Unfortunately, like with Collaros that has gotten him into problems by throwing the ball into tight windows that often get intercepted. I've always liked the prospect of Coyne leading this offense as he's a strong runner as well. I see no reason he can't do so down the line if he improves his decision making with the football.
In the Mix: Bennie Coney
The Bearcats don't have the easiest offense in the world for a quarterback to grasp but I don't think that will stop this true freshman from pushing Legaux and Kay. I was ecstatic when Coney decided to cast the dice with the Bearcats not only because of the marketability of his name (Skyline Coney, anyone?) but because he is literally built in the mold of the perfect quarterback to run the Jones/Bajakian offense. It's no reason why they recruited him so hard. Coney is 6'3″ so he can easily see over the offensive line, is a pocket passer with a very strong arm and nice touch on the ball, and at 210 lbs has the body to sustain the hits on designed quarterback draws and options which he will run at Cincinnati. Like I mentioned, it takes time to learn this offense but Coney was an early enrollee and has been learning the playbook since December. Don't be surprised if you hear more and more about him in the months leading up to kickoff next season.
DARK HORSES AT QB
Munchie and Brendan will probably not be overtaken by players other than Patrick Coyne or Bennie Coney. However I could see the following two athletes getting some playing time this season, Luallen a bit more than the other. He's a terrific runner but has yet to adjust to playing the spread offense from the option he ran in high school and in one season at Georgia Tech. Luallen should continue to come in at QB in the 'Bearcat [wildcat] Formation'. Norvell is as pure a pocket passer as you'll find on this roster. But he is a true freshman and will need time to learn this very complicated offensive playbook as well as bulk up. He will probably wind up taking a redshirt this season.
Jordan Luallen – Redshirt junior; Greenwood, Indiana.
Trenton Norvell – True freshman; Daytona Beach, Florida. – Early enrollee.
Tags: Bearcats Bearcats Football Bennie Coney Brendan Kay Coach Butch Jones Coach Jones Munchie Legaux Patrick Coyne Spring Practice Zach Collaros