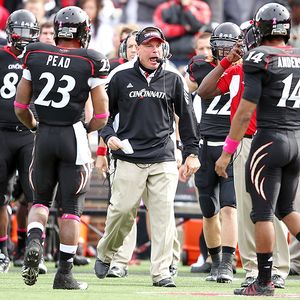 It's no secret that Butch Jones has increased the talent level on Cincinnati's roster. His strategy focuses around a few tactics that many of the best teams in the country have adopted during their storied histories. His first tactic is cultivating the recruiting hotbeds of Memphis, Georgia, and Florida. The inroads John Jancek and T.J. Weist have made here will serve Cincinnati well in the future as the program grows on a national level. One of the reasons that the SEC is the best conference in college football is because a good majority of their teams' rosters are full of players from these regions. They have proved that it's a formula for success.
Jones' second tactic is accepting a good majority of early enrollees in his classes. This seems foreign to the Cincinnati program because no coach before Jones has targeted these types of players in the quantities that he has. In 2011, 5 players joined the team for the Spring quarter and in 2012, Jones brought in another 9 early enrollees. The advantage of adding players during this time allows them to get a jump on the rest of their class in the weight room and during Spring practices. Two of the additions in the 2011 class, Nick Temple and Dwight Jackson, were able to see significant playing time as true freshman and Temple is set to start in 2012. Their success on the field during their first season was due in large part because of the time they spent on campus early that year.
There's no question that these two tactics will help take UC football to the next level and it certainly isn't lost on this Bearcat fan. But he could be instilling a slightly dangerous, third tactic that is exclusive to the quarterback position.
I noticed a slight pattern emerge when signal caller Alton Meeks cast his lot with Cincinnati on Sunday. It was curious to me that the Bearcats would accept another quarterback in the 2013 class considering the slosh of young signal callers already on the roster. Don't let that fool you, though, Meeks is a welcomed addition as I mention in his profile but his commitment was definitely intriguing. UC had already received a verbal commitment from Kyle Kempt who is a talented quarterback in his own right with a ton of upside.
Jones is on pace to sign two quarterbacks in each of his four seasons coaching the Bearcats. At first glance it's not a bad thing; the quarterback position is getting restocked with better and better high school prospects following the tactics mentioned above. Below is a list of said prospects Jones signed in his first four seasons:
Class of 2010: Munchie Legaux, Cody Kater
Class of 2011: Patrick Coyne, Stephen Weatherford
Class of 2012: Bennie Coney, Trenton Norvell
Class of 2013: Kyle Kempt, Alton Meeks
Even though two quarterbacks were accepted in each of the first two classes, only one quarterback remained on the roster after his first season. Cody Kater of the 2010 class left Cincinnati after his freshman year to play for Grand Rapids Community College and is now heading to Central Michigan. Stephen Weatherford of the 2011 class transferred out of UC in December of his freshman season. Of the 2012 class, it seems like Bennie Coney is further ahead of Trenton Norvell in their development. Now I'm not saying that Norvell will follow the path of Kater and Weatherford before him but their situations are similar. All three committed UC to just a couple of weeks before National Signing Day and switched from different programs* to sign with the Bearcats.
*Kater was committed to Central Michigan but "followed" Butch Jones to Cincinnati when he accepted the head coaching position here.
Honestly I'm not sure what will happen to Coney/Norvell and Kempt/Meeks but something seems to be going on behind closed doors in Jones' program. Is his third tactic to improving the talent on the Bearcats' roster running players out the program? It's probably too early to tell but there is a trend at play of him continuously bringing in two quarterbacks in each of his recruiting classes then only having one of them stick around to develop in the program. Jones loves implementing as much competition at his position groups as possible and it would be obvious to have a high degree of competition at the most important position group on the field.
In many ways he is following the same rule as the "Thunderdome":
TWO MEN ENTER, ONE MAN LEAVES.
If you are beyond lost, let me explain. That quote comes from the movie "Mad Max Beyond Thunderdome" which is your standard 1980's post-apocalyptic flick. Staring in it is Mel Gibson as "Mad" Max. It's pretty much one of his classics before he went all racist and crazy (outside of his movies). The story focuses on the Thunderdome, an arena in which two men battle to the death in gladiatorial combat in a similar grandeur as in Ancient Rome about two-thousand years ago. The victor was the one with a heartbeat and the loser, well, was dead.
Obviously Butch Jones isn't forcing his freshman quarterbacks to battle to the death (that I know of) but there's a pattern of only one quarterback in each recruiting class surviving past their first year on campus. Of the quarterbacks signed in the 2010 class, Munchie Legaux advanced to become Cincinnati's starting signal caller and Cody Kater took the JUCO route to play for Central Michigan. Of the quarterbacks signed in the 2011 class, Patrick Coyne climbed the depth chart to the 3rd team this year and Stephen Weatherford left the program. Will Coney or Norvell leave Cincinnati after the 2012 season? What will happen to Kempt and Meeks if both sign next February? Again, it's too early to tell if these incidents develop into a pattern but this practice is one that the Alabamas and Texases of college football do. It's not technically illegal but it doesn't make it moral.
In addition to focusing on well-known recruiting hotbeds and targeting players who can enroll early Jones has instilled a sense of competition in every aspect of his team. Competition breeds excellence but the practice of running players out of the football program is an unfortunate aftereffect. Honestly I can't say without a shadow of a doubt that Jones is doing this at Cincinnati. However, this is something to definitely keep an eye on in the coming years especially at the quarterback position.
Tags: Bearcats Bearcats Football Butch Jones Coach Butch Jones Coach Jones Quarterbacks UC Recruiting