On Wednesday the leaders of college football announced the new playoff setup beginning in the 2014 season. It's not perfect but definitely a step in the right direction. The only beef I have with the new process is that there is still the potential for human error to rear its ugly head. Entrusted to ultimately decide the final four is a committee to select those teams, a "selection committee" if you will. This selection committee removes the blinded voters in the Harris Poll from the equation. However, there is the danger of members displaying bias when choosing the Top-4 teams.
If left unchecked (which it probably will) college football's new selection committee could run rampant with bias. The actual members have yet to be determined but below is a list of people who could very well form the most dastardly group of individuals since the Legion of Doom.
NICK SABAN IS LEX LUTHOR
—-
A match made in heaven.. err.. hell. Both are masterminds at their respective crafts – Saban, creating havoc on opposing offenses; Luthor, creating havoc on the world – and both are evil in their own creative ways. The only real difference between the two is Saban can claim some legitimate success to his mad scientist ways. Luthor on the other hand finds his schemes are continuously foiled by whichever superhero he comes up against. Saban on the other hand has won two national championships in the past three seasons and it doesn't look like he's interested in taking his foot off the pedal.
Likely Bias: SEC
HOWARD SCHNELLENBERGER IS SOLOMON GRUNDY
—-
Howard Schnellenberger is the Legion of Doom version of Solomon Grundy in a lot of ways. By looking at them it's clear the similarities begin with the white hair and powerful physique. Both seem innocent enough despite their looks, grumbling and groaning under their breath until something sets them off and Solomon Grundy is throwing a car through a building or Schnellenberger is laying into a ref. And what's all that mumbling about? We don't really know because it's damn near impossible to understand them. But clearly something is missing upstairs.
Likely Bias: The bottle of 160 proof grain alcohol under his desk.
CHARLES BARKLEY IS THE RIDDLER
—-
As the years continue to get the best of him, Charles Barkley has evolved into a stumbling, bumbling fool. Calling games or providing basketball analysis clearly isn't his forte. Whether it be alcohol-induced or just a factor of him getting older most viewers have no idea what he's talking about most of the time or if his ramblings will result in a point. In the same way, the Riddler confounds his enemies by speaking in riddles (no duh!) and taking advantage of their confusion. While the Riddler has clear intentions and Barkley doesn't think before his speaks, both are incomprehensible all the same.
Likely Bias: The bottle of rubbing alcohol under his desk. Then some non-"Itty-Bitty" Big East team.
NANCY ZIMPHER IS CHEETAH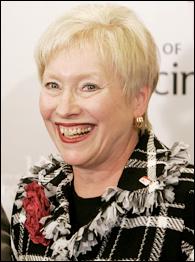 —-
This should make perfect sense to Cincinnati Bearcat fans. Nancy Zimpher, to be blunt, is a cold-hearted bitch who did everything in her power to decimate UC athletics from the inside out. Cheetah is the equivalent of Zimpher on the Legion of Doom. Cheetah used her cat-like claws to bleed the life out of her enemies much the same way Zimpher butchered the one thing Bearcat athletics had going for it at the time. Thanks, Nancy. Go to hell.
Likely Bias: The school with the biggest library.
BILL BELICHICK IS CAPTAIN COLD
—-
Cold. Unnerving. Hoodies. Am I right?
Likely Bias: The Nike school, or whoever is making the most comfortable hoodie at the time.
CRAIG JAMES IS SINESTRO
—-
The similarities here are obvious. Both Craig James and Sinestro are well known for taking something that could be used for good and using it for their own personal gains. Much like Sinestro used the power of the Green Lantern to instill fear and destruction on those around him, Craig James used his power in the media to bury Mike Leach and protect his kid, who may not have actually been "bullied" by the Texas Tech head coach. In the end, Sinestro became the bane of Green Lantern's existence and Mike Leach was fired, forced to rebuild his career from scratch.
Likely Bias: SMU. "PONY EXPRESS BITCHES!!!!"
CHRIS PETERSEN IS TOYMAN
—-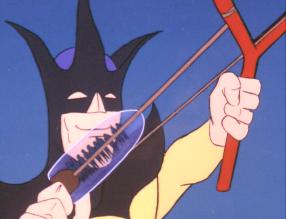 Toyman is a guy that goes overlooked at the Legion of Doom and most people aren't really sure how he even got there. The same goes for Boise State and their head coach Chris Peterson who continues to beat BCS opponents and pile up double-digit win seasons. They also both implement some pretty unorthodox strategies. A 5-inch tall toy soldier loaded with enough C4 to obliterate a city block? That's not outside of Toyman's repertoire of evil tactics. Nor is Chris Peterson above lining up an offensive tackle as a wide receiver. Essentially both seem to have an unending supply of tricks that always confound their enemies. While Chris Peterson is nowhere near as evil as Toyman he's right on par with regards to how utterly insane (and successful) some of his tactics are.
Likely Bias: Anything that doesn't force a 11 – 1 Broncos team to play in the Poinsettia or Maaco Bowl.