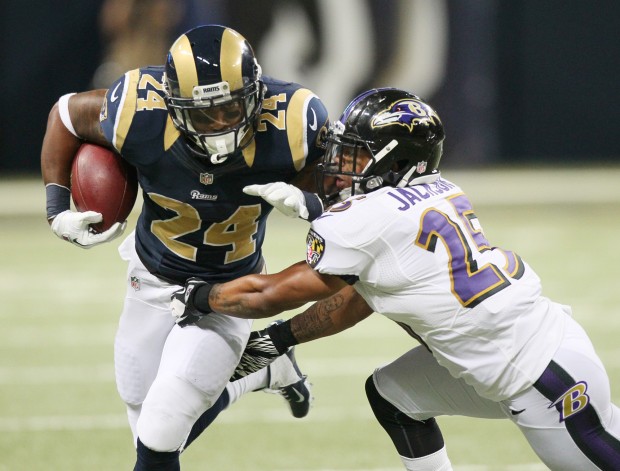 The NFL's preseason is mercifully over. Normally the last game of the preseason is the final tryout for those players on the cusp of making a roster. As a result players who are locked into starting roles, like quarterbacks, usually won't see a minute of playing time so coaches can best evaluate the players lower on the two-deep. Here's how former UC players did in their final game.
Adrien Robinson: Had another solid game catching two passes for 24 yards. The tight end has established himself as a nice target with good hands for the G-Men.
Isaiah Pead: While most of the starters rested, Pead got a ton of reps. And most importantly he finally got some good gains behind solid blocking from his offensive line for a change. Pead finished with 58 yards rushing averaging 5.8 per carry including a 28 yard scamper. He was also present on kickoff returns.
J.K. Schaffer: The undrafted free agent was near the top of the list in tackles (3) for the Jaguars.. because that's what he does, hit people. He's also outstanding in pass coverage and snagged an interception against the Falcons. There isn't a doubt in my mind Schaffer makes the roster.
8.31.2012 Update: Because the Jaguars have such a history of success, they decided to cut Schaffer.
Mardy Gilyard: Had perhaps his best NFL game ever, leading the Eagles with 71 yards receiving and a touchdown. He also recorded a tackle and took snaps on punt returns.
D.J. Woods: Caught one pass for 6 yards.
Kevin Huber: Got a lot of work in as Cincinnati's offense struggled. Booted 6 punts for an average of 46.2 yards.
Armon Binns: Caught one pass for 6 yards but he can be assured a roster spot with the Bengals.
Vidal Hazelton: Did not catch a pass of the four times he was targeted.
Brandon Underwood: Notched 3 tackles one of which was behind the line of scrimmage for the Oakland Raiders.
Mike Windt: Picked up a tackle against the 49ers.
Monte Taylor: Has had a solid proseason and wrapped it up with a sack against the Jets.
Topics: Bearcats, Bearcats Football, Cincinnati, Nation, UC Athletics, UC News