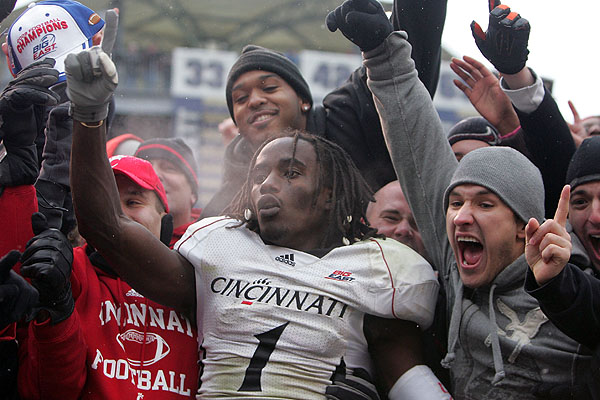 Recently I received an interesting email from the company that hosts Bearcats Nation InMotion Hosting. It was a bill re-upping this site for another year of service. Nobody likes being charged for anything let alone getting automatically debited money from their bank account. But as blunt and slightly annoying as the notice was, it was at the very least a reminder that bearcatsnation.com has been in operation for just over a year now.
Yes it was in August 2011 that I broke ground on this site. This past year has truly flown by and I've had a blast carving out my little corner of the Internet in which I can call home. But the journey from avid UC fan to Bearcats blogger didn't start exactly a year ago. It began with a simple note to a manager of another Cincinnati fansite in May 2010.
That site is of course Down the Drive and the owner Matt Opper. I should thank him first and foremost above all others. He took a flyer on a guy with absolutely no blogging experience but with an extreme interest in the Cincinnati Bearcats that bordered on obsession. It was as if Matt signed an undrafted free agent and made him the starting runningback of an NFL team. Paul Brown would be proud. And I am forever grateful to him giving me the opportunity to expand my creativity whilst learning the craft. I spent just a few short months there but absorbed a lifetime of information. Matt still provides inspiration with his data-driven posts and attention to detail. The man loves sports and when it comes to football particularly, he can pick out the intricacies of teams most people miss. It's definitely a unique talent and he's set the bar high with his blog.
I should also probably give a shoutout to the main players in the media who are as close to the Cincinnati Bearcats as possible. First up is Dan "The Voice" Hoard who has been calling UC games for quite sometime now and you'd be hard pressed to find a picture of him without a smile on his face. He's the epitome of good broadcasting and professionalism in the business. Next is Paul Dehner who is the resident lead blogger on the official UC athletics site. He is constantly uploading new content and well-researched articles, setting the bar for how to present factual ideas in an entertaining manner. Next is Tom Gelehter. If Dan Hoard is the voice of the Bearcats, Tom is the face. He's constantly in front of a mic interviewing players, coaches, and behind-the-scenes employees. His work ethic is an inspiration as is his passion for UC athletics.
Not only have these three men set the standard for covering a team but they are all around good dudes, never shying away from a quick conversation via Twitter. I'm sure are just the same face-to-face as they are in front of a camera.
Next there's Scott over at Bearcats Blog. Now, he and I have had our back-and-forths over Twitter but by-and-large they are good natured. Overall my opinion of him is that he's a knucklehead who likes to push buttons. It's all good. Scott, whether he likes it or not, has inspired me to pour my heart into each and every post. The guy can crank out 2,000, 3,000, 4,000-word posts with ease because he's so passionate about what he's writing. Whether it be Boy Meets World or a shot-by-shot tracker of a UC basketball game, Scott clearly devotes hours into his writing because it's something he loves to do and is proud of. Just check out his site and see for yourself.
And finally I have to thank the Enquirer's Bill Koch for getting me the final motivation to start writing about the Bearcats. As you've learned I'm quite obsessive about UC football and basketball and after the 2010 season I wanted more. I thirsted for more and more information about the programs but was getting next to nothing out of who should be on the pulse of Bearcat athletics, Koch. What pushed me over the edge was a lame article about the possible expansion/renovation of Nippert Stadium. On a Friday Bill posted a teaser about the full article to be posted the following Sunday in an attempt to hype up what most of us thought would be revealed plans from the UC athletic department. Finally we were going to get some answers with a plan straight from the horse's mouth! When Sunday came around Bill tore our hearts out with what amounted to be an article full of top-level information about Nippert that you could find on a message board. Included were reused quotes from Mike Thomas from previous articles. Bill apparently asked basic questions without delving deeper into the issues facing the athletics department. Furthermore, Bill never once swayed from his negative tone by asking questions about what could be done if the funds were available. He just claimed Nippert couldn't ever be renovated/expanded and left it at that.
Thanks, Bill. No I mean that sincerely. Your laziness and negativity might be the main catalyst that influenced me to carve out a corner of the Internet and write about the team I love.
But before I end this piece I have to give a final "Thank You" to you, the readers of this blog. I began writing about the Bearcats a year and a half ago mainly because, heck, I love Cincinnati and the hometown team. I have for almost as long as I can remember and probably always will. They represent something I can be proud of and, in a weird way, I feel like bearcatsnation.com is my own little way of giving back by stirring up interest in UC football and basketball. Starting this site a year ago is one of the best decisions I have ever made. But the fact that visitors like you actually take the time to read my drivel is more than I could ever ask for. You don't have to, but you do and I forever thank you for that.
Go Bearcats!