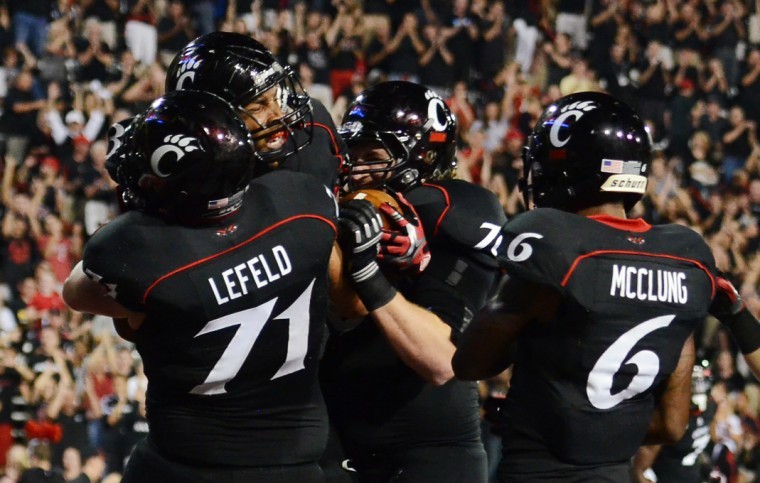 Game #2 approaches for the Bearcats. I've spent all week slicing and reslicing the events of last Thursday night but it's finally time to move on to Cincinnati's next opponent. On paper, this is a gigantic mismatch. On the field, it will probably be even more evident. I'm not expecting the Bearcats to pile up 72 points like they did last year against Austin Peay but at no point do I want to believe the outcome of the game will be in doubt.
With that we get to the keys to the game, which will be as vanilla as the playcalling this Saturday probably will be.
1) Avoid Injuries
The name of the game is staying healthy. Cincinnati was pretty injury-free against Pitt last Thursday despite a laundry list of cramps due to the heat and the scare with Alex Chisum. But the Bearcats should stomp Delaware State on Saturday. So much so that UC should try to go up several touchdowns early and coast in the second half. If Cincinnati is up 50 to start the second half, Munchie Legaux, Drew Frey, and the rest of the starters should be firmly implanted on the bench. Can you imagine losing Legaux with a knee injury for the entire season with UC on top of Delaware State by 6 touchdowns in the 3rd quarter? Please god no.
2) Better Passing Efficiency
Munchie was solid last Thursday. He wasn't great but he wasn't bad, either. He didn't make any drastic mistakes and commanded this offense like a battle-hardened senior. But Munchie's mechanics let him down on a few plays which caused him to airmail and skip some passes to his receivers. Some of them weren't particularly difficult passes; he missed a couple of curls and drags that come to mind immediately. If he hits those short passes Cincinnati maintains all of the momentum, scores even more points, and Munchie's completion percentage likely balloons to 60% or 70%. What I expect this Saturday is the UC quarterback completes the easy passes, doesn't make many mistakes, and displays better consistency play-to-play. He should theoretically tear this opponent to shreds.
3) Own The Middle
It will be emphasized over the course of the season but the interior of Cincinnati's run defense (defensive tackles and linebackers alike) will have an opportunity to redeem themselves after getting gashed by Pitt to the tune of 137 rushing yards. The good news is that not only are the Bearcats facing a far less talented Delaware State team (Pitt jokes aside, it's true) but the Hornets run a pass-first offense. Quarterback Nick Elko threw the ball 50 times last week in a loss to Delaware. Those kinds of numbers would make Mike Leach blush. This feeds right into UC's wheelhouse with Walter Stewart and Dan Giordano crashing off the edge. But when DSU does run the ball up the middle, the interior of the defense needs to stuff them each and every time.
4) Clean Up The Mental Mistakes
This is pretty self-explanatory. The Bearcats were penalized 7 times for 52 yards on Thursday again Pitt. A shocking three of them occurred on the special teams and one more was an emotion-driven unsportsmanlike conduct penalty on George Winn's first touchdown. Butch Jones emphasizes fundamentals in all aspects of the game and especially not making stupid mistakes. Coaches can forgive players for pass interference or holding, regardless of how much they blow their tops when they occur, because those are more or less physical mistakes. Essentially the guy was getting beat physically and did his best to make up for that error. But what really causes coaches to give their cardiologist a call are false starts, unsportsmanlike conduct, and offsides on kickoffs. Those are mistakes where players displayed a lapse in focus and are inexcusable at this level.
5) Bring Up The Newbies
Like I mentioned, this thing should be over by halftime. While the Bearcats were unfortunately forced to play a schedule with two FCS squads, this will give ample opportunity for Butch Jones to work in some players who will assume starting positions in 2013. I'm speaking of Silverberry Mouhon, Trenier Orr, Nate Cole, Chris Moore, and Jeremy Graves among others. I would also like to see some of Patrick Coyne who has the inside track to #2 quarterback in 2013. Ideally I'd like the Bearcats to get up early on the Hornets and rest the starters after halftime. With UC up by several touchdowns we should see plenty of some new names wearing red and black.
Big East Games – 2012 Record: 10 – 3 (76.9%) – SMMFH, Owls and Huskies.
South Florida vs. Rutgers: This is going to be a really, really good game. The Bulls escaped Reno with a one point win over the Nevada Wolfpack last week and have loads of momentum heading into this game with Rutgers. The Scarlet Knights, while 2 – 0, have averaged just 25 points in their first two games this year despite playing Tulane and FCS Howard. Overall the offenses of both have been somewhat shaky this year so this could turn out to be a defensive masterpiece with two squads boasting tremendous units on that side of the ball. Ultimately I think USF takes this one. South Florida 23, Rutgers 17
Pittsburgh vs. Virginia Tech: The Panthers are a mess, having lost to FCS Youngstown State and our beloved Bearcats last Thursday. And they didn't just lose, they got their backsides handed to them in both games. Things don't get any better this week as they face the Frank Beamer war machine. This could be an ugly one as the Hokes role but Cincinnati fans might want to keep an eye on this game as we take on Va-Tech in two weeks. Virginia Tech 34, Pitt 10
Maryland vs. UConn: Maryland faces their second Big East opponent of the year. After an uninspiring performance against FCS William & Mary they jumped all over Temple riding a big halftime lead to a win. UConn lost to NC State last Saturday and appear to have even more questions on offense (what else is new). But the Terrapins aren't putting up 36 against this Huskies defense as Edsall falls against his former team. UConn 27, Maryland 20
Louisville vs. North Carolina: This is the first test of the season for Charlie Strong's Cardinals team (sorry, Kentucky). Quarterback Teddy Bridgewater is developing into a star and Louisville's defense is as suffocating as ever. North Carolina on the other hand dropped a tear jerker to Wake Forest last week and are looking to rebound. It's not happening this week but, oh well, maybe they can get the NCAA to cancel this game. Louisville 31, North Carolina 21
Syracuse vs. Stony Brook: Ryan Nassib has been playing outside of his mind so far this fall leading the nation with 792 passing yards. Syracuse is the best two-loss team in college football and finally get to take their frustrations of an 0 – 2 start out on a lowly Stony Brook squad. Syracuse 52, Stony Brook 6
Topics: Bearcats, Bearcats Football, Big East, Cincinnati, Delaware State, Hornets, Nation, Pitt, Pitt Panthers