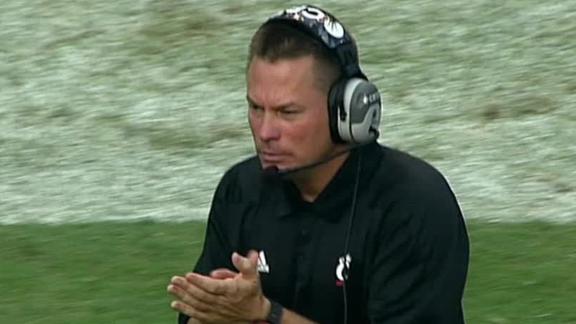 Get ready for the grind. Last weekend was Cincinnati's second and final bye week of 2012. Now the Bearcats will play out the stretch without a single weekend off. For the fans it's the perfect situation. 10 consecutive weekends of UC football? That's like a wet dream compared to what we had to endure over the Summer.
But for the football team it's less than ideal.
Under normal circumstances coaches would probably like to place their bye weeks at the end of September to break up the non-conference games. It would give them the opportunity to evaluate their squad and make adjustments before gearing up for conference play. The second bye would come in the middle of the conference schedule. For the Bearcats who play in the parity-laden Big East, I'm sure Butch Jones would put it in the middle of November, allowing his team to clear their heads before making a final push to a potential conference championship and bowl game.
As much flack as it gets, the Big East in itself is no walkthrough. Opponents can come out and get ran over one week then look like the '85 Bears the next. Typically the top two teams are separated from the bottom two by only a couple of conference wins/losses. It's this parity and uncertainty that jump up and bite teams as they approach the final games of their season. Big East squads like Cincinnati have to stay level-headed and consistent otherwise they can quickly fall to the bottom of the pack after dropping just one or two conference games.
This is especially important to UC who won't have the luxury of resting up their players or taking a breather with an off-weekend. The former is what I'm most concerned about above all. Jones has reiterated the fact that the Bearcats have 65 underclassmen on the roster. Right now it's mainly smoke and mirrors as I don't think that affects the immediate two-deep. But by the 8th or 9th game in a row the wear-and-tear on the starters might force UC's head coach to throw some of those players into the fire.
Let's take the cornerbacks for example. John Jancek likes to play man-to-man, bump and run coverage. And why wouldn't he? Camerron Cheatham and Deven Drane are among the best coverage duos in the Big East. But that requires them to be very physical at the line of scrimmage. I'm fully confident in their abilities to accomplish this but after wrestling with 6'4″ 210 lbs receivers for eight straight games they might get a little worn down. And if, god forbid, they are lost of a significant amount of time they would likely be replaced by Leviticus Payne or Trenier Orr.
Now, both of these guys are fine, young players. But the key word there is young. Orr is a redshirt freshman and Payne was playing on his high school team 12 months ago. Obviously the talent is there but you can bet that an offensive coordinator who sees them step into the game will attack that side of the field immediately. I reverberate the same concern on other areas of this team. If Dan Giordano at defensive end were to be injured, a redshirt freshman Silverberry Mouhon would step into his place. If either Sam Longo or Sean Hooey were lost on the strong side of the offensive line, another redshirt freshman Parker Ehinger would be the starter. Injuries to starters always set a team back but it might affect the Bearcats even more because there is so much youth across this roster.
I'm also keeping my eye on the collective focus of the Bearcats. They have yet to really face any adversity this season. Last year you could count on Zach Collaros, Derek Wolfe, and J.K. Schaffer to get in the ears of the young players and make the big play when Cincinnati needed it most. In 2012 Walter Stewart and George Winn are rumored to have been embracing this role but if the proverbial shit hits the fan we'll just have to wait and see if these leaders step up.
To hedge these concerns Butch needs to be smart with the management of his team and I think he has been so far. This was evident against Delaware State when he and Bajakian rolled out a pretty vanilla gameplan. It might have not impressed the average Bearcat fan or the pollsters but Cincinnati's game against the Hornets was as much about the UC coaching staff figuring out this team as it was getting the W. Who can earn significant reps? Who can come up huge on 3rd and short? Who can be counted on to not fold under pressure?
These questions are especially critical when looking at young players like Trenier Orr and Silverberry Mouhon. Like I mentioned the 65 underclassmen won't affect the two-deep in the immediate future (hopefully). But when starters need increasingly more rest near the end of the season Jones and his staff will lean on the young players to take more reps. They can better gauge the maturity of their team by playing these youngsters in the glorified practices that are the games against FCS squads. He'll have another opportunity here in a couple of weeks when Cincinnati hosts Fordham. Expect a whole host of second and third string players to see the field in that game. This will also go a long way to preserve the health of his older players. The less snaps they take now means they can reliably take more later.
At the same time Jones and co. are running the youngsters out against lesser foe they are also implementing a very basic strategy to guide Cincinnati to victory. Normally the craftsman of the offense Mike Bajakian is creative in his gameplanning, sometimes rolling out a sixth offensive lineman or intricate wide receiver routes. Against Delaware State the Bearcats ran the zone-read, some screens, and threw it deep maybe three or four times. That's about the extent to which they dove into the playbook. But I think it was intentional.
Firstly this was a means of hiding UC's offense from their future opponents and secondly it allowed the younger players who potentially will need to be counted on to step up near the end of the season to get their feet wet with the basics of the system. Sure they can run it in practice but the real test comes if they can do it on gameday. Remember, this is all about the coaches continuing to evaluate what kind of weapons they have at their disposal.
So from a fan perspective 10 straight weeks of Cincinnati Bearcat football is outstanding. However it puts the coaches and players in a bind. Due to unforeseen scheduling issues the staff will have to tread lightly as there will no longer be a week off until the end of the season. It is what it is. Luckily I think Butch and his coaches are doing little things now to plan ahead for when their starters begin to get dinged up near the end of the year. By the 8th or 9th consecutive game we might start seeing players like Silverberry Mouhon or Parker Ehinger emerge as future stars. That's the good news unless their reps are ratcheted up due to the injury of a starter.
Unfortunately there's no way to tell if a player will be lost for a significant amount of time. But what is certain is that the chances of injury increase with more games especially when there is little time for a team to get healthy in between games. Let's hope what this staff does now to prepare for the worst benefits this team in November and December.