 The old adage is that stars shine the brightest on the biggest of stages. The player who has most exemplified that saying over the past few seasons has been Isaiah Pead. From one of his first games as the starting runningback for Cincinnati until his final game in red and black #23 has always ran with authority and placed the team on his broad shoulders to lead them to victory. One of my favorite moments of his was during the Sugar Bowl against Florida. UC was getting taken to the woodshed by the Urban Meyer/Tim Tebow offensive machine and was clearly distracted, to say the least, by the departure of Brian Kelly.
But even with Cincinnati down by multiple touchdowns, Isaiah Pead continued to run hard lowering his shoulders and welcoming defenders to try to bring him down. With Pead gone to the NFL, the spotlight has searched for another player with which it can bask in the shine. This had to be a player who was able to stare in the face of adversity and simply smile.
Thankfully Walter Stewart is one of those players. He has been the Isaiah Pead of the Cincinnati defense playing his best as the stages got bigger.
And there are no bigger stages for the Cincinnati Bearcats than their conference games against Big East foes. UC is currently 1 – 0 in the conference having beaten the Pitt Panthers to open the season. This week they begin a six-week stretch that will take them through the remainder of their Big East schedule. First up is the Louisville Cardinals. Unfortunately UC's brightest star on defense will be missing in action during the Keg of Nails clash with their down-river rivals. It's bad enough that Cincinnati is going on the road into the hostile Papa John's stadium but they are also facing an undefeated, very talented, and extremely motivated Louisville Cardinals team that has its sights set on a BCS bowl or better.
Not only will Walt be absent this Friday night but it doesn't sound like he will be returning to the team anytime soon, either. It's a damn shame because he really does perform at his best in conference games. Walt's ability to "turn it on" during Big East play is simply remarkable and statistically this has proven to be the case:
Mike Tyson

Position
S/OLB
Height - Weight
6'2" 190 lbs
Hometown
Norfolk, VA
High School
Hargrave Military
247 Sports
*** - 83
Rivals
*** - 5.5
ESPN
** - 68
Scout
****
In conference play Walt absolutely steps up his game. He's averaging almost 2 tackles more against Big East teams and slightly better on a per game basis when measuring the difference with other metrics. Admittedly those last four measures make it difficult to differentiate between his performance against conference and non-conference competition. The raw numbers help paint a clearer picture. Walt has record 43 tackles, 1.5 tackles for loss, a half-sack, 2 forced fumbles, and 2 quarterback hurries more in Big East games. And these aren't skewed by him playing in more of those games either. Over the course of his storied career at UC, Walt has played in 21 non-conference games (including bowls) and 22 against Big East foe. For the sake of argument his participation in both is split 50-50 so the raw numbers continue to prove my point.

Regardless of how you look at it the story remains the same; His stats ramp up (even if slightly) when he's playing the likes of Louisville and Rutgers compared to an FCS school or Miami (OH). Normally it would be the other way around with players teeing off on weaker competition to pad their stats. But not for Walter Stewart. When the talent level rises, he too rises to the occasion and performs at his best.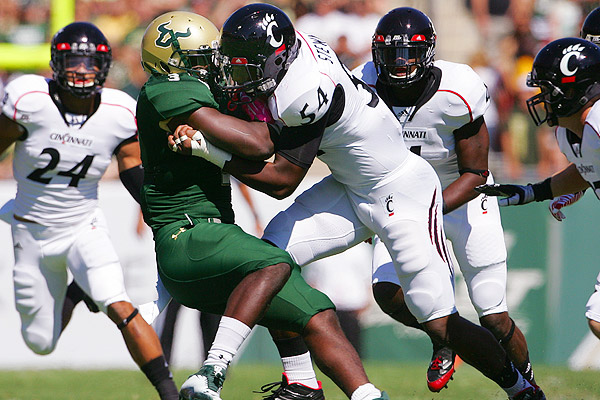 That's why he's a star.
But the fact remains that Cincinnati will be without Walt this Friday and for the foreseeable future. The timing of his return is unknown as I'm sure Butch Jones is keeping a close eye on the situation. Knowing Butch's propensity to hold injured players out until he's 100% certain they are ready, and wisely so I might add, we might not see Walt until after the regular season if we're lucky.
And based on those statistics above that's why the timing of his absence is particularly concerning. I trust in John Jancek and his likely replacements Brandon Mills and Silverberry Mouhon but few players can replace the intensity of a Walter Stewart. The obvious issue is that Cincinnati will be facing better competition in the Big East week after week. Furthermore, the Bearcats' next four opponents (Louisville, Syracuse, Temple, Rutgers) are run-first teams despite the former two highlighting the pass more in 2012.
When Brandon Mills was a full time defensive end in 2010 his few weaknesses were exposed because opponents would run right at the 5'8″ lineman. Offensive tackles ate him for lunch that season and runningbacks wisely followed their blockers to pick up huge gains on the ground. Mills is a talented player but his skills are better used in a "sparkplug" role rather than an every-down DE, which it sounds like he will be used as while Walt is out.
It will also take better play out of the linebackers to make up for the loss of Walter Stewart. They have been shaky at best this season in run support despite doing a pretty solid job of getting to the quarterback on blitzes. But on running plays they have overpursued and/or not shed blocks more times than I'd like to see out of a fairly veteran unit. It's led to big runs like we witnessed last week against the Toledo Rockets.
Overall everyone on the front seven and the defense as a whole will need to step up their game replacing Walt as conference play approaches as he does during those same games. It's a tall task that will test the mental and physical toughness of this team. But I'm confident that with the intelligence and creativity of Coach Jancek combined with the talent and experience of the starters they will find a way to get by with out #54 on the field.
Topics: Bearcats, Bearcats Football, Big East, Cincinnati, Defense, Louisville, Louisville Cardinals, Nation, Statestify, Walter Stewart