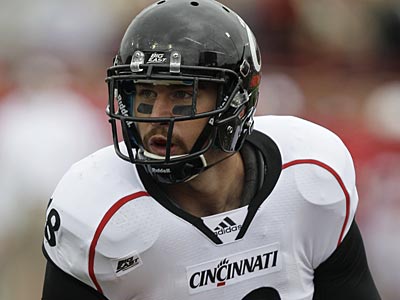 The Bearcats came into this game as the more talented team and asserted their dominance early. Cincinnati forced Temple into three-and-outs on their first two drives before UC got on the board with a touchdown run from George Winn. The Bearcats rolled from their to a 24 – 3 halftime lead behind spectacular play from the defense and the smart decisions of Brendon Kay.
That's right, Brendon Kay. He got the start today over the much maligned junior quarterback Munchie Legaux and did a nice job doing all that what asked of him, which was managing the offense. He took advantage of the opportunities when they presented themselves, like when he connected with Kenbrell Thompkins and Chris Moore on beautiful, deep touchdown passes. But for the most part the coaches asked him to simply protect the football and move the offense upfield and Kay performed those roles well.
Again the defense was suffocating as they should have been against an Owls offense that is fairly one-dimensional in general. But they kept Temple in check for most of the afternoon. As a whole the Bearcats dominated wire-to-wire. The most encouraging part of the game today was that the Bearcats didn't take their foot off the pedal even with a solid lead after halftime. Cincinnati and sent all 87 fans at Lincoln Financial Field home unhappy.
So now the Bearcats are sitting at 7 – 2 with a critical game against the Rutgers Scarlet Knights next Saturday who are now sitting atop the Big East with Louisville LOLing against Syracuse today. I can't state enough how important next week's game is. Cincinnati's conference title and BCS bowl hopes are still very much alive and with a proper quarterback leading the offense the Bearcats are in a strong position to win out.
Tags: Bearcats Bearcats Football Owls Temple