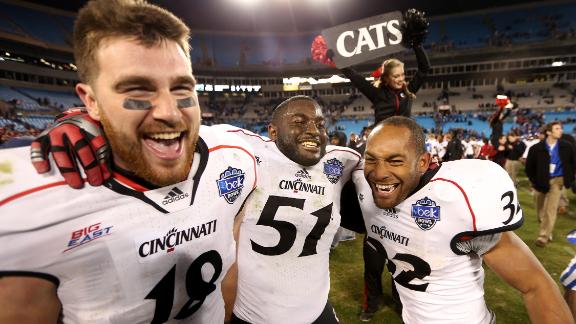 With a win over the Duke Blue Devils in the Belk Bowl on Thursday evening the Cincinnati Bearcats put a stamp on yet another 10 win season, joining Oklahoma, Alabama, Virginia Tech, and Oregon as the only teams to win at least that many games in five of the past six seasons. This is a time for celebration but I wouldn't be doing my due diligence as an extremely obsessive Bearcat fan if I didn't look ahead to 2013. UC graduates 23 of 25 seniors this offseason with both Brendon Kay and Greg Blair allowed to play an extra year in red and black.
But compared to those players who are returning, it doesn't look like there will be a whole heck of a lot of turnover between 2012 and 2013. Over half of the players who garnered at least some first team reps last season will be present on next year's team. Remember, the Bearcats in 2012 boasted 65 underclassmen across the roster. They were incredibly young in a number of areas and those players will only become better with experience.
So after the jump Bearcats Nation has taken account of who is leaving and returning to the team next season. Obviously there are some new and returning players who didn't see much playing time this past campaign and will potentially see some reps in 2013. They are mentioned in the comments below each position group.
Quarterback
Leaving: Nada
Returning: Brendon Kay, Munchie Legaux
Getting a starting quarterback from the previous season is always a good thing for a college football team. Like I mentioned when it was announced, Cincinnati will have to overcome the hurdle of learning a new offense but fans should take comfort knowing that they have a talented quarterback in Kay leading the way. Overall I'm very confident in #11 keeping the reigns next season. I should also probably mention Munchie Legaux. Even though he's returning to the team as a senior I don't think he will be in line to play quarterback in his final season. If the new coaching staff is building for the future they will have an open competition between Patrick Coyne, Bennie Coney, and Trenton Norvell for the backup quarterback spot behind Kay. Given their collective raw talents that's the best move for this football team thinking beyond next season.
Runningback
Leaving: George Winn
Returning: Ralph David Abernathy IV, Tion Green, Deionte Buckley, Jameel Poteat
George Winn is gone. That's a damn shame but Cincinnati has some bright, young stars waiting in the wing in Tion Green, Deionte Buckley, and Jameel Poteat. While I don't want to build up expectations too soon I don't think there will be much of a dropoff in the Bearcats running game even though Winn is graduating. The main reason for this is Cincinnati's offense line, which will return all of its starters in 2013 (more on them in a bit). Theoretically, the Bearcats can plug in anyone of the young bucks and keep right on kicking ass on the ground. It will help that Ralph David Abernathy will be returning and while he's not a between-the-tackles ball carrier his explosiveness will be a welcomed sight to this offense.
Wide Receiver
Leaving: Kenbrell Thompkins, Damon Julian, Danny Milligan
Returning: Anthony McClung, Alex Chisum, Chris Moore
The Bearcats lose an every down starter in Kenbrell Thompkins, a surprisingly explosive Damon Julian, and a steady slot man in Danny Milligan this offseason. Given what Cincinnati is returning the wide receiver position actually looks pretty solid in 2013. Anthony McClung will continue to operate in the slot and the outside receiver positions will likely go to Alex Chisum and Chris Moore. Right now I'd say these two are the front runners to earn starting roles. But I've swung and missed on this prediction in the past. Around this time last season I assumed Chisum was a bona fide starter in 2012. However he never lived up to the hype I gave him and was passed over by Julian. We'll just have to wait and see how the outside receiver position plays out I suppose as youngsters such as Jeremy Graves or Shakim Alonzo might turn heads this offseason.
Tight End
Leaving: Travis Kelce, Demetrius Richardson
Returning: Blake Annen
Travis Kelce is probably heading to the NFL and losing him will be a big blow to this position group and Cincinnati's offense in general. Also leaving is Demetrius Richardson who was primarily used as a second blocking tight end on short yardage plays and goal line situations. On a per player basis there is quite a bit of turnover at the tight end position but the Bearcats will have the luxury of a senior in Blake Annen. He doesn't have a ton of reps to his name but this isn't uncommon for any tight end not at the tip top of the depth chart like Kelce was. As of now it's tough to predict how this unit will fair but it looks like it will be led by Annen. Also keep an eye out for D.J. Dowdy this offseason who has the potential to appear on the depth chart next Fall.
Offensive Line
Leaving: Sean Hooey
Returning: Every. Single. Starter; Eric Lefeld, Austin Bujnoch, Dan Sprague, Sam Longo, Parker Ehinger
This will be the strongest unit on the offense next year with an already stellar line returning every starter from the 2012 season. The primary reason Cincinnati had such a dominant rushing attack last year was because of this front five. They were spectacular in 2012 including in pass protection where the allowed just 15 sacks all year. There really isn't much more to say about this position group that hasn't already been said. Quite frankly UC fans should be encouraged that the Bearcats will be just fine on offense in 2013 despite a new coordinator because of stability within this unit.
Defensive End
Leaving: Walter Stewart, Dan Giordano, Brandon Mills
Returning: Silverberry Mouhon, Josh Posley
The Bearcats are going to be as green as green can be on the edge of the defensive line. Probably the one and only silver lining to Walter Stewart being sidelined was that it gave the opportunity for Silverberry Mouhon and Josh Posley to get some reps with the first team defense. And to be honest they needed all the experience they could get considering right now they are staring at potential starting roles in 2013. It's difficult to say for sure as the only thing of certainty right now is that there are many question marks with this position group. I could very well see Elijah Shuler sliding over to end or newly signed JUCOs Terrell Hartsfield and Jerrell Jordan competing for starting time.
Defensive Tackle
Leaving: John Williams, Adam Dempsey
Returning: Jordan Stepp, Camaron Beard, Elijah Shuler, Mitch Meador
A unit that had to deal with replacing two 300 lbs interior linemen who also happen to be playing on NFL teams at the moment should be stronger in 2013. Their lack of size and experience were exposed numerous times in 2012 but that's what can happen when you have turnover of that magnitude. An extra year of reps from Stepp and Beard, along with more time in the weight room hopefully, will only make them better in 2013. Plus Elijah Shuler (unless he slides outside) and Mitch Meador will also be back. Some dark horses in this race might be the youngsters Alex Pace and Brandon Mitchell. UC was lacking a ton of size on the interior in 2012 but these two are among the biggest players on the team with quite a bit of upside. I'd be curious to see where they wind up close to the beginning of next season.
Linebacker
Leaving: Maalik Bomar
Returning: Greg Blair, Nick Temple, Solomon Tentman, Clemente Casseus
Like the offensive line on the other side of the football, the linebacker corps will be Cincinnati's strongest unit on defense. Losing Maalik Bomar definitely hurts and I'm sad to see him go but the Bearcats are returning just an outstanding group of players from the 2012 team. Greg Blair was granted a sixth year of eligibility and will be plugged right back in the middle and Nick Temple will also be back, of the starters. Plus Solomon Tentman and Clemente Casseus are returning and could battle for a starting spot in 2013. In addition Florida State transfer Jeff Luc will be ready to play and should also compete for a role with the starters. Overall, the linebacking corps will be overflowing with talent next season.
Cornerback
Leaving: Camerron Cheatham
Returning: Deven Drane, Trenier Orr, Leviticus Payne
The Kalamazoo, Michigan native Camerron Cheatham did just about everything anyone asked of him during his time at Cincinnati. His presence will absolutely be missed as well as his playmaking abilities. As far as 2013 is concerned Deven Drane will have one of the cornerback spots locked down. The other spot former occupied by Cheatham will be up for grabs between Trenier Orr and Leviticus Payne. Both got a good amount of reps in 2012 when Drane was temporarily grounded with an injury and should build off of that experience this offseason. The position battle between Orr and Payne should be watched closely heading into 2013.
Safety/Nickelback
Leaving: Drew Frey, Dominique Battle, Chris Williams, Aaron Roberson
Returning: Arryn Chenault, Adrian Witty, Kevin Brown
After returning just about everyone from the 2011 team the safety/nickelback position will have to deal with some turnover this offseason. Chenault will be the starting free safety in 2013. That part's easy. The difficult prediction is figuring out where Adrian Witty will play. There's no doubt in my mind he'll be a starter next season but I'm just not sure if he will be backfilling Drew Frey at strong safety or Chris Williams at nickelback. Either position would work for him but if he winds up at the nickelback I could potentially see freshman Kevin Brown, who did have some reps there this season, fill the strong safety role in 2013.
Special Teams
Leaving: Danny Milligan
Returning: Pat O'Donnell, Tony Miliano, Ralph David Abernathy IV, Anthony McClung
Just about everyone who touched the ball on special teams is returning in 2013. Most importantly of the group is punter Pat O'Donnell whose golden leg has flipped many a field for the Bearcats during his career. UC will also have stability at place kicker with Tony Miliano returning in 2013. Last year his field goal accuracy improved to 77%, which is a level approaching Jake Rogers as a senior. And Miliano was just a sophomore. Like most youngsters on the team that should only improve with time. Returning kickoffs will probably again be Ralph David Abernathy. While he was stymied by new NCAA rules in 2012 that pushed the kickoff spot up to the 35-yard line, Cincinnati's dynamic tailback still averaged over 25 yards per return which was 3rd best in the Big East. Finally the punt return responsibilities will likely fall on the shoulders of Anthony McClung who split time there with Danny Milligan over the course of the season. As long as he can hold onto the football in 2013 the Bearcats should be fine here, although I'd like to see if they can give RDA IV some reps here as he's by far the most explosive returner on the team.
Tags: Bearcats Bearcats Football