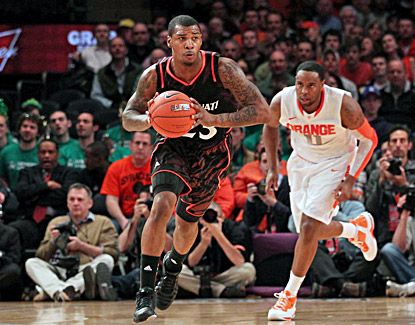 The Bearcats are rolling right now. After taking care of business against Rutgers and DePaul to rebuild their confidence they picked up a huge win against the Marquette Golden Eagles on Saturday night. With Sean Kilpatrick leading the charge with 36 points he too might be emerging from his funk. And it couldn't come at a better time as UC now heads to New York to face the always dangerous Orange in a Big Monday matchup.
Syracuse has been darn near perfect this year with the one scuff on the schedule being a close road loss to the Temple Owls. But other than that the Orange have been rolling yet again under Jim Boeheim. After knocking off the Louisville Cardinals on Saturday they have taken over the top spot in the Big East with an undefeated conference record. I've said it a lot but this is Cincinnati's most difficult opponent to date and could be for the rest of the season. Plus, with Cashmere Wright unlikely to play today either, it makes this even more of a challenge.
Key Numbers
The beat goes on for the Syracuse Orange. They're one of the best teams in the country behind a dangerous offense and a 2-3 zone defense that is damn near impossible to crack. SU leads the Big East in scoring offense (78.5 ppg), scoring defense (58.4 ppg), offensive rebounds (16.2 orpg) and is one of the best teams in the conference in shooting percentage (45.7%), defensive rebounds (26.6 drpg), assists (16.2 apg), and steals (10.4 spg). Overall this is just a very strong team in all facets of the game.
Players To Watch
Three Starters Triche (#20), Carter-Williams (#1), Fair (#5) and James Southerland (#43): To be honest it's difficult for me to hone in on one or two Syracuse players to keep an eye on because quite frankly Jim Boeheim's arsenal is stocked with weapons. As usual. All four of these players average over 12 points per game led by Brandon Triche with 14.6. Michael Carter-Williams is the point man leading the team with 9.3 assists per game and 3.2 steals per game. If that's not enough C.J. Fair parks himself under the basket and picks up a team leading 7.1 rebounds per game to go along with his 13.4 points.
In addition, in keeping with Syracuse's tradition of possessing a dangerous sixth man, James Southerland averages over 13.5 points and 5 rebounds per game yet never steps on the court to start the game. Look for Boeheim to use him to create a wrinkle on offense and pump life into his team if they start going stagnant with the ball in their hands.
Final Thoughts And Prediction
This game will be not easy. Not in the slightest. Syracuse is again sporting a dangerous team on offense, defense, from beyond the arc, and inside the paint. As I mentioned things won't be easier on the Bearcats if Cashmere Wright is out, which looks like will be the case. Thankfully Sean Kilpatrick appears to have found his shot again which will be instrumental in beating the Orange's zone. However I can't see UC winning today as I don't know how they will be able to overcome the absence of Cash, not again.
Syracuse: 74
Cincinnati: 65
Tags: Bearcats Bearcats Basketball Coach Mick Cronin Syracuse Syracuse Orange