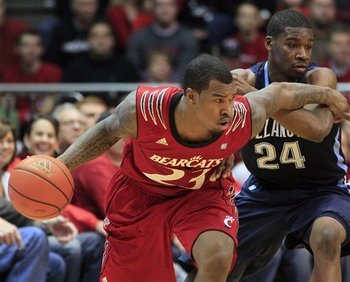 Tonight marks a clash between two teams at identical spots in their respective seasons. Both are 6 – 5 in the Big East with their seasons on the verge of collapsing. While Villanova has been spotty all year long the Cincinnati Bearcats are clearly in the midst of a scoring slump UC fans haven't witnessed in ages. Declared a dream season before the first game was even played, Cincinnati is drastically trying to right the ship before they play the three weeks of their schedule in which they face a murder's row of UConn, Louisville, and Notre Dame on the road and again UConn at home.
The Wildcats on the other hand are simply trying to string together wins. After knocking off Louisville and Syracuse late last month they dropped a close road game to Notre Dame and was beaten at home by Providence, their second loss to the Friars this season. They've since rebounded against DePaul and South Florida but all year Villanova has been struggling to get any kind of traction in the Big East.
So tonight we'll see two teams desperate to avoid dropping to 6 – 6. At that point the Bearcats or Wildcats would be flirting with missing the NCAA Tournament all together, a turn of events that neither team wants to deal with.
Key Numbers
Jay Wright coached teams are known for utilizing speed and ball movement to give the scoreboard a workout. This season, similar to last season, the Wildcats haven't been able to put all the pieces together. While the possessions are there (69.6 per game, 2nd in the Big East), the assists (12.5 per game, 14th in the Big East) and most importantly scoring (69.5 points per game, 9th in the Big East) certainly aren't. Villanova just doesn't have that game changing point guard that most of us are used to and it's really been hindering Wright's offense. There's youth at the position but it will take time to develop the synergy needed to run his "controlled chaos" offense to perfection.
Players To Watch
JayVaughn Pinkston (#22): He is Villanova's leading scorer but what's most unusual about this, and a sign that Jay Wright's offense is a little "off" this season, is that Pinkston is a 6'7″ 260 lbs inside player. It's extremely unusual to see a forward lead the Wildcats in points per game but he's doing it this year. But given this guy's physicality I guess it's not really all that surprising. On the year, Pinkson is averaging 12.5 points and 4.8 rebounds per game. While Mouphtaou Yarou is the go to guy inside, #22 JayVaughn Pinkston is the Wildcat to keep tabs on when he's moving around inside the three point line.
Ryan Arcidiacono (#15): His name is a mouthful but he could be the next great Villanova point guard. Arcidiacono (pronounced: "that bastard on the other team") is just a true freshman but due to injuries the Wildcats have sustained has been forced into the court general role for Jay Wright's team. And with the pressure placed squarely on his shoulders, Arcidiacono has shined, averaging 11.2 points, 3.8 assists, and 1.1 steals per game. His assist/turnover ratio is also a solid 1.2, again for a true freshman that's not bad. With Cash still working his way back from injury for Cincinnati, I'd expect Ge'Lawn Guyn to be asked to guard him more often tonight and it might not be the easiest task for the UC sophomore.
Final Thoughts And Prediction
I'm going to make this prediction based on one simple stat; Villanova has won all but 6 games on the road if you count their overtime victory over Purdue in the 2K Sports Classic. Oh what's that you say? Cincinnati has won just 2 games at home since the start of the new year? Ignore it. Bearcats win, because honestly who the heck knows what this team is going to do on a game-to-game basis anymore.
Cincinnati: 72
Villanova: 65