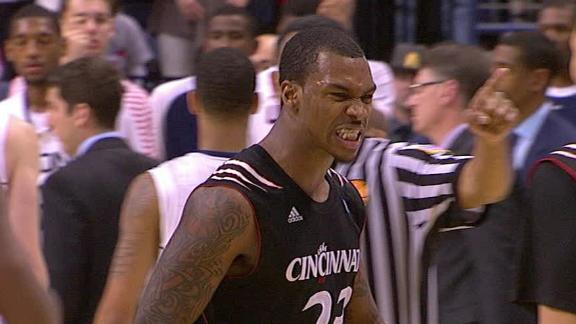 Tonight UC returns to the hardwood tonight to take on the UConn Huskies on the road. If you remember the last time the Bearcats faced Connecticut in the hornets nest that is the XL Center, Cincinnati kept the crowd at bay most of the game. UC paced the Huskies that day despite UConn fighting their way back to tie it in the closing seconds thanks to a couple of incredible clutch threes from Shabazz Napier. But the Bearcats had a Mr. Clutch of their own in Sean Kilpatrick who buried a three with just 2.5 seconds remaining to seal the win for Cincinnati. Let's relive that moment:
[youtube http://www.youtube.com/watch?v=punBGHoEWU0]
This year Cincinnati and UConn face each other as fairly similar teams as both are very guard-driven this season. Of course in 2011-12 both teams were led by Cash/Kilpatrick on one side and Napier/Lamb on the other but both coaching staffs are leaning on them even more this year to generate points. The reason is because both the Bearcats and Huskies have lost their primary interior threats to graduation; Yancy Gates from UC, Alex Oriakhi and Andre Drummond from UConn. As a result these two teams are still trying to find answers inside because of that turnover in the post. So look for tonight to be a fast-paced game with lots of three point shooting and points in transition.
Key Numbers
The Bearcats and Huskies parallel each other in a number of ways except most notably rebounding. While Cincinnati from the post to their point have picked off errant shots well this season, UConn has not. Clearly they are missing Oriakhi and Drummond far more than UC is missing Yancy Gates this year, at least from a rebounding perspective. A year after ranking second in the Big East in defensive boards, the Huskies have dropped to 11th in that category this season. Things aren't much better on the offense side. The Huskies are last in the Big East in offense rebounds after sitting at 10th last year.
While Cincinnati has trouble finishing in the paint, the Bearcats will clearly have an edge in this area tonight, leading the conference in defensive boards and 2nd on the offensive end. For a team that has struggled mightily to score points in recent weeks, not giving the other team more opportunities to hit buckets is key.
Players to Watch
Shabazz Napier (#13): Yep, the same Napier who nearly ruined Cincinnati's upset bid last year. As a junior he's stepped up his game greatly. Napier's assists, points, and steals are up while he's reduced his turnovers and fouls. Clearly this season he has emerged as UConn's next great guard, leading the Huskies in points (16.3), assists (4.7), and steals per game (2). Obviously this is the guy to keep an eye on tonight.
Ryan Boatright (#11): Gone is Jeremy Lamb to the NBA but UConn has found a solid replacement in Boatright. The sophomore has really stepped his game this season averaging over 15 points per game and shooting almost 45%, which leads the Huskies. He's clearly a burgeoning star with a bright future who will probably rise to lead this team in the coming years but he does have some holes in his game. Boatright turns the ball over a ton, almost 3 times per game, and he's actually regressed in the assist/turnover department. This will be an interesting matchup tonight though between he and Cashmere Wright/JaQuon Parker/Ge'Lawn Guyn. All three can force opposing guards to make mistakes which can lead to immediate points. Keep an eye on this tonight.
Final Thoughts And Prediction
Cincinnati and UConn are very similar teams. The Bearcats have the clear edge on the glass and that should absolutely play a factor in tonight's game. But for whatever reason UC can't turn those rebounds into points and overall Cincinnati has been struggling to put the ball in the hoop in Big East play. The Huskies, however, seem to display more flow and creativity on the offensive end using Napier and Boatright in a variety of ways. This has helped UConn keep their head above water despite getting pasted on the glass most nights. This will be a difficult game for Cincinnati, the ones against the Huskies usually are. Plus they are traveling to the XL Center tonight which makes the mountain that much steeper to climb. Sorry everyone, but I'm picking Connecticut this time.
UConn: 68
Cincinnati: 62
Tags: Bearcats Bearcats Basketball Connecticut Huskies UConn