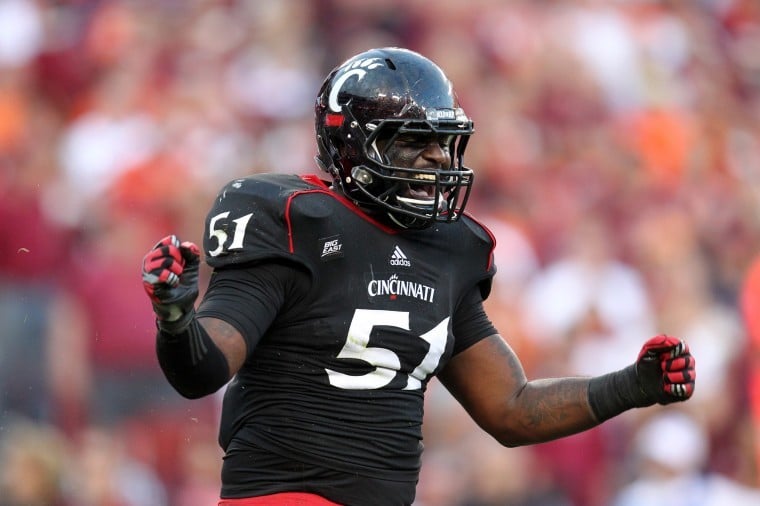 (Courtesy NewsRecord)
On Tuesday, the overall, offense, and defense ratings of each team in the upcoming NCAA Football '14 video game were released. They did the 2013 Cincinnati Bearcats team no justice. Today the 10 highest rated Bearcats in the game were revealed courtesy Operation Sports.
#51 Greg Blair (MLB): 90
#11 Brendon Kay (QB): 84
#1 Ralph David Abernathy (HB): 83
#43 Nick Temple (OLB): 83
#60 Sam Longo (C): 83
#25 Arryn Chenault (SS): 83
#92 Silverberry Mouhon (DE): 82
#70 Brandon Mitchell (DT): 82
#4 Munchie Legaux (QB): 82
#76 Austen Bujnoch (LG): 81
You can compare the ratings for some of these players with where they were in NCAA Football '13 here. I have a couple of thoughts about this:
- Having Greg Blair and Brendon Kay as Cincinnati's top players on offense and defense respectively makes sense. Blair was a monster in 2012 and should build off of that this year. Kay was stellar once he took over the starting quarterback role in the middle of the Syracuse game last season. He too should have a strong senior campaign.
– Overall, I'm pleased Kay is rated higher than Munchie Legaux. In these games, the highest rated player at each position is automatically slotted as the starter. I could have easily seen EA Sports lazily give Legaux the higher rating despite Kay being the obvious starter in 2013 just based purely on their stats from last year. This will save you the hassle of manually switching them out when you get the game (unless you really love hitting your own offensive lineman in the back of the head with passes).
– NCAA '14 has Arryn Chenault as a strong safety despite him playing free safety in 2012. I can't say where or not this is accurate as we don't know where Art Kaufman and Steve Clinkscale will place him. They will have to replace Drew Frey and moving Chenault over would be a logical move. We'll see what happens.
– While Chenault may or may not move from free safety to strong safety, Sam Longo is absolutely not Cincinnati's center. That would be #63 Dan Sprague, who will definitely start there this Fall. Swing and a miss, EA Sports.
– Speaking of Sprague, he, Anthony McClung and Nick Temple are rated lower in NCAA '14 than they were in NCAA '13. Lolwut?!
– Ralph David Abernathy (#1) is the highest rated runningback and as I mentioned, he will be automatically slated as the starter at that position in this game. He'll get reps there this Fall but isn't an every down back and will be moved all over the field. So you might want to consider switching him out for Tion Green, the tailback who is most likely to start there against Purdue and shoulder most of the load in 2013.