The Louisville Cardinals led for about 20 seconds early in the first half. After that point it was all Bearcats. And by "all Bearcats", I mean Cincinnati straight up dominated the 12th best team in the nation like a hulking bully duck taping a feeble freshman to the monkey bars from that point onward. It took Louisville 14 minutes to reach double-digit points and wound up with a season low 20 at halftime. No play exemplifies UC's supremacy more than this monster alley oop from Sean Kilpatrick to Shaq Thomas.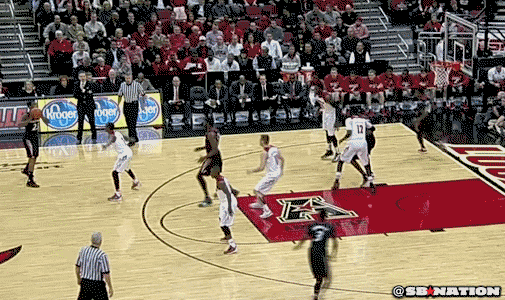 But then things started to unravel five minutes into the second half. Cincinnati was cruising with a 12 point lead but as Titus Rubles was moving the ball up the court, he turned the ball over, and was immediately called for a technical foul. The UC forward took offense to Louisville's Montrezl Harrell hitting the ball out of his hands after the whistle blew. Rubles began barking at the refs for letting it go and was immediately T-ed up. It was the turning point of the game.
Rubles was shocked, the other players were confused, and Mick Cronin blew his top (and discarded his suit jacket in true Mick Cronin fashion). Cincinnati never recovered as Louisville went on a 9-0 run immediately thereafter, cutting their deficit to three with about 13 and a half to play. Gone was the Bearcats' huge lead and their composure as the game teetered on disaster. But UC made the necessary corrections to duke it out with Louisville down the stretch, going punch for punch and emerging victorious near the end.
The phantom technical foul didn't doom the Bearcats after all.
It goes without saying that taking down the #12 team in the nation is immense for Cincinnati. But what was even more key for the 'Cats was that they beat Louisville at the KFC Yum! Center to go along with their drubbing of Memphis on the road in early January. Cincinnati's next meeting with the teams immediately behind them in the AAC standings will be in the friendly confines of Fifth Third Arena. UC should be favored in both games. In other words, the Bearcats now own a 2 1/2 game lead in the conference standings and positioned themselves perfectly to win the AAC championship.