The 15th commitment of the Cincinnati Bearcats' 2015 recruiting class comes in the form of Caleb Ashworth, who verballed to UC on Monday. Per 247 Sports, co-defensive coordinator Robert Prunty was running point on this prospect and on the surface it's easy to see why he likes him. Ashworth measures in at 6'3″, 235 lbs, which is on the large side for a high school defensive end. Plus he has the numbers that show he's not just a big defender. In 2013, Ashworth compiled 102 tackles, a gaudy 31 tackles for loss, 14 sacks, 23 quarterback hurries, and a pair of forced fumbles. So it's a bit of a surprise to me why the edge rusher seems to only boast an offer from Cincinnati at the moment but, like several other prospects Tuberville and his staff have gotten in on early, I wouldn't be the least bit surprised if his recruitment blew up during his senior year.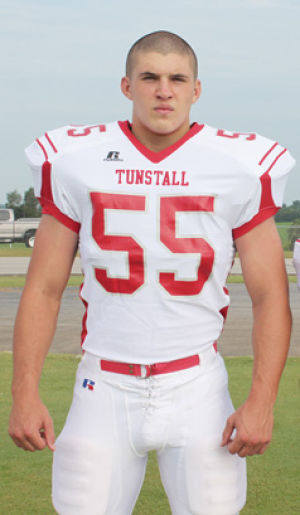 OVERVIEW
Position: Defensive End, Fullback, Middle Linebacker, Tight End
Hometown: Dry Fork, VA
High School: Tunstall Senior
Height, Weight: 6'3″, 235 lbs
Offers: -
Composite Rating: *** – 80
247 Sports Rating: ** – 77
ESPN Rating: -
Rivals Rating: *** – 5.5
Scout Rating: -
ANALYSIS
Hudl highlights from his junior year.
Ashworth isn't particularly fast or slow off the snap but is a relentless pursuer of the ball carrier. He has above average top end speed for a defensive end and does a nice job using his hands on tackles to make sure his target is wrapped up cleanly. Ashworth does a nice job fighting off blocks, tapping into that well of strength to many times simply push a blocker out of the way. He gets a great first push and is able to establish a foothold in the backfield quickly. But if he's to face larger, more talented linemen at the collegiate level, he'll need to develop more "violent" hands in order to break free. If Ashworth can add that ability to his repertoire and add more muscle, he could become a solid college edge rusher.
OUTLOOK
It's clear that Caleb Ashworth has outgrown high school football and is ready to take on his next challenge at the collegiate level. While he makes his money coming off the edge of the defensive line, he also seems to play fullback, tight end, and dabble at middle linebacker. I could easily see him moving over to offense at Cincinnati as his blocking abilities make him an ideal candidate should Eddie Gran go back to his pro-style schemes. But, if Prunty keeps him on his defense, Ashworth could develop into a quality strongside defensive end for the Bearcats. Either way, I think a redshirt is in order for the powerful edge rusher. That is, unless Ashworth blows the coaches away during his first few practices at Cincinnati which, based on his highlight reel, isn't improbable.
Remember to like Cincy on the Prowl on Facebook and follow Cincy on the Prowl on Twitter.
Tags: Bearcats